Wine tour to Puglia, Apulia, Italy's heel: southern sun, baroque splendour and primitivo
— Apulia, the long Italian heel, attracts visitors with sun, sea, charming fishing villages, stunning baroque cities and, not least, with its powerful and flavourful wines. There has been a veritable quality revolution in the last 20 years here in Apulia! On this tour we will get to know Apulia's pride, the primitivo grape, but also many other local grape varieties. We stay three nights in Lecce, one of Italy's most spectacular cities, plus one night in Bari and we will enjoy southern Italy's delicious food.
Program    |    Travel facts    |    Book    |    More on the tour
.
Next wine tour to Puglia:
This is a sample program, an example. Every wine and food tour that we organise is different and specially adapted for the season and the circumstances. Details in the program, e.g. which producers we visit, will be different each time.
.
Italy is not a very big country. But the differences between the northern and southern parts are sometimes gigantic. The wines from Southern Italy have for a long time been over-shadowed by the big names in the north. Not so any more.
The renewed interest in Southern Italy applies not only to the culture and gastronomy but also very much to the wines. It started with primitivo and the debate about the grape's kinship with the Californian Zinfandel.
Suddenly primitivo became a grape to be reckoned with. Now we have a trio of interesting grapes in Puglia: Primitivo, Nero di Troia and Negroamaro.
The wines are often powerful and full-bodied. You can tell that they have 1000 hours (!) more sun than the rest of the country. It is important to get a good balance between alcohol, acidity and fruit. The talented producers pass the test with flying colours. With modern technology and skilled winemaking craftsmanship they coax out more flavour and personality and a little less heat and punch in the wines.
We meet in Bari, a beautiful city on the Adriatic Sea, easy to reach by plane. We stay in Bari the first night at an excellent hotel. Our five-star hotel is very elegant and is located right on the water.
The subsequent nights we stay in the splendid baroque city of Lecce in the Salento region in the southernmost part of Apulia, maybe southern Italy's most beautiful city.
The ornately decorated façades of the countless churches, baroque palaces and other buildings are typical of Lecce. It is a true joy to walk around town and enjoy the splendour while looking for a nice restaurant. It is with good reason Lecce is on the UNESCO World Heritage list.
We enjoy three lunches together as private guests at wineries on this tour. The gastronomic specialities of Puglia are numerous. Some come from the sea, of course, but there are also many pasta dishes, such as orecchiette ("little ears").
The grilled lamb is a delicacy and one should not miss the local pecorino or fresh burrata (a luxury variant of mozzarella). The food may sometimes be rustic fare or lighter fish and vegetable dishes but it is always tasty made with the freshest ingredients. The desserts are often made with almonds and honey.
Join us on this journey of discovery among southern Italy's great wines and delicious food!
The tour is led by one of BKWine's wine and travel expert guides.
---
.
More travel information
Here are some useful pages and guides about this travel destination:
Even more info
We have written a lot about Puglia and about wine touring in the region, what to do and what to expect.
Here you can find more about travelling in the Puglia wine region.
You can also find more information on the wines from Puglia on BKWine Magazine.
.
---
.
Program — wine tour to Puglia, Italy's heel
This is a sample program, an example. Every wine and food tour that we organise is different and specially adapted for the season and the circumstances. Details in the program, e.g. which producers we visit, will be different each time.
Preliminary programme.

Contact BKWine for more details.
Program overview
Day 1, Wednesday — Arrival in Bari
Day 2, Thursday — Brindisi, Gioia del Colli, Lecce
Day 3, Friday — Salento
Day 4, Saturday — Manduria
Day 5, Sunday — Heading back home
Wednesday, day 1 — Arrival in Bari
Arrival in Bari according to your own travel plans any time during the day. Check in at our centrally located five-star hotel, with its feet in the water just off the waterside promenade.
Bari, Puglia's "capital", is a charming little city with its 300,000 inhabitants and a big harbour. There is much to see and to discover: the cathedral built in the 11th century, then destroyed and rebuilt in 1170 (!), the fishing harbour and the elegant shore-side promenade, palatial buildings and narrow alleys. In short, it is a glorious mix of southern Italy's culture and history.
There are plenty of restaurants proudly presenting the tasty Apulian gastronomy, pasta (orecchiette, recchietelle, strascinate, chiancarelle, cavatelli…), vegetables, olive oil and so on. An original version is the fried pasta!
The evening is free for a walk in the old city centre. An aperitivo at a café and a late dinner at an outdoor restaurant? Don't be surprised if it is still summer weather down here even late in the autumn!
Thursday, day 2 — Brindisi, Gioia del Colli, Lecce
We board the bus after breakfast and head south. It is in the southern part of Puglia that the most remarkable quality development has taken place in recent years.
Despite the hot summer temperatures, the vines thrive thanks to winds coming in from two directions, from the Adriatic Sea in the east and the Ionian Sea in the west. Their grape varieties are also particularly resistant to hot weather.
We travel through a nature which is at times barren and where they mainly grow vines and ancient gnarled olive trees. 40% of Italy's olive oil comes from Apulia and olive trees are almost everywhere. But we also see vegetable and wheat fields. Apulia supplies the rest of the country with huge amounts of fresh vegetables and durum wheat to make pasta.
The soil is mainly limestone in Apulia. Here and there we see, among the olive groves and almond trees, pretty whitewashed houses.
We start the day with a visit to the inland, near the town of Martina Franca. The Tenute Girolamo is a family estate with 50 hectares which was created in 2000.
Tenute Girolamo makes several interesting primitivo wines in different styles, with or without oak ageing. The vineyards are at 400 meters altitude. The temperature drops at night, thus preserving the acidity in the wine.
The family invests heavily in quality, for instance by increasing the planting density in the vineyard, sometimes to as much as 12,000 vines per hectare.
We then continue out towards the coast. We make a stop to enjoy a good lunch and get an introduction to matching the food from Puglia with the local wines.
After lunch we visit the Tenute Rubino winery. The estate has 200 hectares in four different locations, all near the city of Brindisi.
The main grape here is Negroamaro. Its expression depends much on where on the large property the grapes have grown. They have, in fact, a variety of microclimates. White wines are quite rare in Apulia, 80% are red, but Rubino makes some very good white wines from the Vermentino and Malvasia Bianco grapes.
Early evening we check into our hotel in the beautiful city of Lecce. We stay in a 4-star hotel in the heart of the old town.
The evening is free for you to enjoy the city. Two steps outside the hotel and you are in the middle of the stunning old town.
Friday, day 3 — Salento
The bus picks us up in the morning at the hotel. Today we will visit the wine district of Salento.
Salento is the name of the area around Lecce. Negroamaro is the main grape here. It is really truly hot during the growing season. Fortunately, the soil is such that it preserves the acidity and freshness of the wines. And they have a high proportion of old vines, often over 90 years old, with long roots.
Sometimes they harvest the grapes very late and some even let the grapes dry for some time before pressing. Those wines have a lot of similarities with an amarone.
We make three interesting visit here, around the town of Salice Salentino. We visit, among others the Conti Zecca family dating back to 16th century Naples. Today it is three brothers who take care of the family's 325 hectares.
The grapes are Negroamaro and Primitivo, but also Cabernet Sauvignon, Malvasia and Aglianico. Aglianico comes from Basilicata and gives a very good, elegant and flavourful wine.
When lunchtime approaches we head to the impressive Castello Monaci. The castle, that is also a winery, dates from the 15th century and looks like an ancient knight's castle. The lunch at the castle is a selection of Apulian specialities presented along with the winery's wines.
The grapes withstand the heat well, with just a little irrigation. The wines have both elegance and structure.
In the afternoon, we have time for one more vineyard visit.
Late afternoon we are back in Lecce. Free evening.
Lecce is probably one of Italy's most magnificent cities. The old city centre is filled with Baroque palaces and churches. The cathedral is impressive. Everything is extremely well preserved and strangely with comfortably few tourists! Among the narrow streets there are of course many small restaurants, both fancy luxury restaurants and simple wine bars.
Saturday, day 4 — Manduria
Today we will visit the Primitivo stronghold, Manduria. We will have a short ride on the bus from Lecce in the morning.
Primitivo had its breakthrough in the wine world in the 1990s. At first, it was mostly about easy-drinking wines that you chugged down without much thought. Then it was discovered that Primitivo and the Californian Zinfandel is basically genetically the same grape.
Primitivo rose through the ranks and became recognized as a quality grape and was on its way to fame. In competent hands Primitivo gives superb wines with a southern warm fruit.
We visit, among others, the Attanasio family with Giuseppe, the father, at the helm. He runs a small property with his wife and two sons. Careful crop-thinning guarantees high quality. Here (too) the primitivo is made in different versions, some of them award-winning.
We enjoy a delicious lunch at the Masseria Le Fabriche, a winery near Manduria. The restaurant is nicely situated amidst the vines. The old farm house has been renovated with care including some modern design touches.
We eat a magnificent lunch with many local specialities. We begin with their delicious home-made bread and local olives and continue with stuffed zucchini and eggplant, pepperoni fritti, potato and pecorino pie, local vegetables, puree of broad beans and much more. Then we are served the veal and we finish with fruit.
Keep some space for the amazing almond cakes that will arrive towards the end! A very typical lunch in Apulia. We will taste the estate's excellent wines throughout lunch.
The winery and farm is run by a very ambitious woman who has pushed the estate to become one of the best in the region. The family did not easily accept that the daughter would run a vineyard. Not so common this far south. But she had made up her mind. And a great success it has become!
We have time for one final afternoon visit to one more winery in Manduria.
Late afternoon we return to Lecce, the Pearl of the South of Italy.
The evening is free. A last walk on the winding streets paved with a thousand years old stones? A visit to the Roman arena in the main square? Another wine bar and then finish the evening at one of the city's charming restaurants?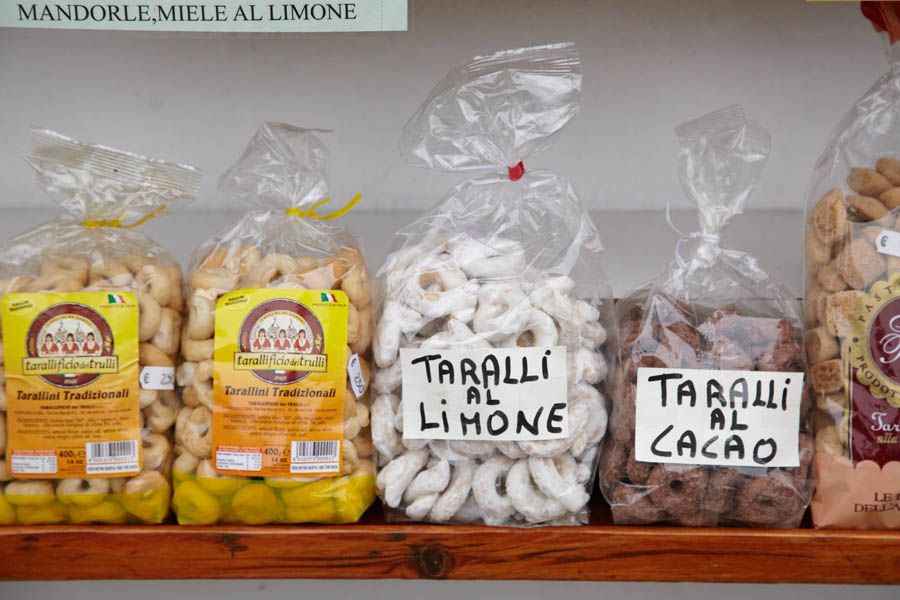 Sunday, day 5 — Return home
After an early breakfast at the hotel in Lecce we drive up to Bari. We leave you at the airport in time for your flight. But it is not a bad idea to stay a few extra days in the lovely city of Bari!
The program may be subject to minor modifications.
---
.
Tour Details — Puglia (Apulia) Southern Italy wine tour
Dates: This is a sample program. Look in the menu "Our Tours > Scheduled Tours" to check what scheduled tours are currently on the program or contact us to discuss a custom made private wine tour.
Price per person: This is a sample program. Look in the menu "Our Tours > Scheduled Tours" to check what scheduled tours are currently on the program or contact us to discuss a custom made private wine tour.
Included in the price:
4 hotel nights, double occupancy, including breakfast:

1 nights in Bari at a 5-star hotel
3 nights in Lecce at a 4-star hotel

Meals as described in the program above (*):

3 gastronomic multi-course lunches with local specialities, including tasting of several wines, one as guests at a winery or in a restaurant

Start and end point: Bari
Bus transport during the whole trip
All vineyard and winery visits
Private, high quality tastings at wineries, approx. 3 visits per day
Interpretation from Italian as needed, some visits may be in English
Wine guiding and wine tutoring by an expert BKWine guide
(*) See below for more important information on our meals.
Not included:
Travel (flights) to the destination and back from your home location.
You organise your travel to Bari yourself. If you want assistance with organising your flight tickets etc, please contact us.
We warmly recommend that you plan a few extra days here if you have the time! It is a very interesting place and well worth some "non-wine" tourism too! We can assist you with booking additional hotel nights if you want.
For this trip to take place we must have a minimum of 4 participants registered at the "book before" date. Maximum number of travel guests: 8.
Book This Tour
Book before: [this is a sample programme]
Booking is confirmed by paying the booking fee of [sample programme, this varies by trip]. Full payment should be received at the latest [sample programme, usually one month or 60 days, depending on the trip] before the departure date (see our terms and conditions). Details on how to pay will be sent to you when you register.
It is important that you read our travel booking terms and conditions.
We also invite you to read more on why you should travel with BKWine, about customer protection, and about what you can expect from our wine tours in the section below "More on our wine tours".
You book by contacting Britt Karlsson, BKWine:
phone: +33 1 58 88 04 66 or +33 6 80 45 35 70 (+33 is the country code for France)
Skype: "bkwine". Call us on skype.
email: info@bkwine.com, or use the contact form below
"I want to book this tour" or "I want more info"
* = required
Important: We automatically send you a copy of this email when you submit it. If you have not received it within a few minutes: 1) check your spam folder, 2) consider resending it, you might have misspelled your email address. Or simply send us a normal email using our address noted just above.
Share this tour programme with your friends
Maybe your friends want to come with you on this wine tour? Let them know about the programme and ask if they'd like to join you. Share the info on social networks or send an email to your friends:
More on our wine tours
Why travel with BKWine?
We are Britt and Per Karlsson. We are specialists in wine and food tours and wine tourism, but also experts in wine in general. We are internationally published wine writers and have written ten award-winning wine books.
No other tour operator has a comparable knowledge and experience of wine, wine regions, wine tourism and gourmet travel.
We have organised hundreds of wine and food tours, and this is what we love to do. We take it very seriously – it is not a sideline or a hobby – and what we want more than anything is to share all these wonderful experiences with you.
All our tours are led and managed by guides who have in-depth wine knowledge, and in many cases we lead the tours ourselves.
Read more on why you should choose BKWine for your wine and food tour.
Thousands of happy customers
Over the years, thousands of wine lovers have travelled with us. Many come back to tour again and again with BKWine to new wine regions. Our record-breaking client has been on more than ten BKWine tours. We are happy and proud to have such faithful customers.
Read more on what travellers have said about our tours.
Awards and Mentions
We're pleased and proud to have received many accolades, including:
"World's Top Wine Tours", Travel+Leisure Magazine, the world's biggest travel magazine
"Best wine tasting holidays", AOL Travel's list of top wine tours
"Recommended Wine Tours", Munskänkarna, the world's biggest wine appreciation association
"World's Best Wine Book for Professionals" as well as "Best Wine Book of the Year", Gourmand International awards, and many other book prizes
Three OIV book awards, International Organisation of Vine and Wine

"Wine Personality of the Year", an honour bestowed on Britt Karlsson by Munskänkarna in 2011, the world's biggest wine appreciation association
Inclusion on the Wine Media Power List, by Wine Business International magazine
About the wine producers and wineries we visit
Our aim is for you to experience some of the very best and most interesting aspects of the wine world, in terms of wine and food.
We put great effort into creating outstanding winery visits, and in this way we are quite different to many wine tour organisers. It is not always the most renowned, internationally known estates that offer the best experiences. Organising a wine tour featuring famous names of the wine world is relatively easy: it is merely a question of making lists and ticking boxes. On those kind of "bucket list" wine tours, you rarely meet the winemaker or the owner. You will simply be one of thousands of visitors they receive each year.
We do things differently. With BKWine Tours, you will meet the people behind the label, often the winemakers and/or the owners. Thanks to them, you will have a unique, truly personal experience and an insight into the wine world that no one else can offer. When you travel with BKWine, you are more like a special guest than a tourist.
We have personal connections and unparalleled knowledge thanks to more than 20 years as wine journalists, with 10 wine books published, and as wine tour organisers with more than 30 years' experience. You can be sure of getting the best wine travel experiences with BKWine Tours.
Read more on the wine producers and wineries we visit.
A true gourmet experience: food and gastronomy
For us, wine and food are intimately linked, and this is a fundamental part of our wine travel philosophy. For this reason, a wine tour with BKWine is always an outstanding culinary experience both for the wine enthusiast and for the gourmet. A BKWine tour is a gastronomic voyage that explores the deep relationship between food and wine.
Read more On Meals: Food and Gastronomy on Our Tours.
Customer Protection,  Financial Travel Guarantee, and Terms and Conditions
You can always feel safe when you book your tour with BKWine. BKWine has a bonded bank guarantee that gives full protection according to EU and Swedish law. BKWine is a Swedish limited company and as such is regulated by strict rules.
Read more on Customer Protection, Financial Travel Guarantee. and our Terms and Conditions.
When you book a tour it is important that you read the terms and conditions. BKWine's booking terms and conditions follow the guidelines developed by the Consumer Protection Agency.
Health, vaccination and allergies
Our tours have no particular health requirements although inevitably we will be walking a certain amount in wine cellars and vineyards. Sensible footwear is a must.
Most of our travel destinations have no particular health guidelines or requirements for vaccinations or medical certificates, but if in doubt, you should always consult a medical professional, vaccination centre or relevant embassy in your country of origin.
We can always accommodate food allergies. However, in order for us to manage such requests you must let us know about any allergies before the tour starts.
Read more in our FAQ and in our Terms and Conditions.
Travel insurance
BKWine does not sell travel insurance. If you want travel insurance, check if your regular home insurance policy includes some kind of travel insurance, or contact your regular insurance company or a travel insurance specialist.
Custom Tours
We also offer custom wine and food tours if you want to travel on different dates, or if you want something different to what we currently offer on our scheduled tours. This tailor-made service can be offered for individuals, companies, professionals, wine tastings clubs etc.
Important information
Our groups are always small. The number of people in the group may vary. The maximum can range from 8 to around 20; check the details in each programme. But our groups are always modest in size. This is important because it guarantees a quality experience and a personal welcome at the wineries we visit.
Read the BKWine Booking Terms and Conditions here. They are important to you!
You are expected to organise your travel independently to the destination for most of our tours, but once you are at the location, we take care of everything.
For more inspiration
Read our wine travel blog. For more, read our online wine magazine the BKWine Magazine with articles from all over the wine world.
And also:
Recommend this trip to a friend using the share buttons below
Newsletter on wine
Subscribe to our free wine and travel newsletter, the BKWine Brief. Each month, it gives you news from the world of wine, restaurant recommendations, tips on our favourite wine producers and much more. It will also keep you updated on forthcoming wine and food tours.