Languedoc: the "New World of France", a world-class wine region with many organic wines
— Here in the South of France, in the Languedoc, there are a lot of exciting things going on. This voyage of discovery takes you to some of the most quality conscious winegrower, producers who today make world class wines, and that are still affordable. Languedoc is also a precursor for organic wines. We will look in detail at what this means. The Languedoc is also a landscape of beauty and splendour, with lots of wild herbs that are characteristic for the gastronomy from the South of France. You will have many opportunities to try the typical food and wine matching.
Program    |    Travel facts    |    Book    |    More on the tour
.
The next wine tour to Languedoc:
This is a sample program, an example. Every wine and food tour that we organise is different and specially adapted for the season and the circumstances. Details in the program, e.g. which producers we visit, will be different each time.
.
The Languedoc can, half seriously, be called The New World of France. Many young and dynamic winemakers have settled here. Land is comparatively cheap. The whole region is fermenting not only with wine but also with young wine entrepreneurs and there are plenty of excellent quality and excellent value wines. Some producers are among the top wines in France and indeed in the world.
The Languedoc is also a region where more and more wine producers are organic or even biodynamic. So on this wine tour there is a good opportunity to take a closer look at whet this means. Environmental issues have become very important for many wine producers – and wine consumers. Many of the leading wine producers in this region are organic although they rarely use that fact as a sales argument, preferring to rely on the quality of their wines.
It is a fantastic experience to spend a few days travelling around in the Languedoc landscape. It is magnificent, sometimes even majestic. Some parts are very remote and wild with plenty of wild herbs: rosemary, thyme, bay leaf, sage etc, the typical vegetation that is called garrigue. The garrigue also gives the wines their typical aromas, full-bodied and spicy.
It is also a region filled with history. There are 800 years old ruins of the hilltop fortresses built by the cathars. Small villages with narrow streets. Historic churches and museums. There are ancient olive groves and endless rows of vines. This is the world's biggest wine region, and it shows!
We will meet in Montpellier, the main city of the region, where we will spend the night the first and the last night of the tour. It is an exciting city that combines and ancient and well-preserved city centre with modern architecture by the famous Spanish architect Ricardo Bofill.
The second and third night we will be further south, in Narbonne. Another charming French town. This is close to Roussillon, one of the hidden gems among French wine regions. It is actually the French wine region with the highest percentage of appellation contrôlée-wine made (appellation contrôlée is the highest quality denomination for wines in France).
This trip will also prominently feature the gastronomy of the South of France. We will have three delicious lunches together. The traditional food in the Languedoc has the same roots as in the Provence, with a lot of olive oil, garlic, tomatoes, onions, and herbs. Delicious!
Lucques is the name of a small olive that comes from the Languedoc. It has a mild and aromatic flavour and gives excellent olive oil but is also very tasty to eat in itself. There is an abundance of vegetables and plenty of game, e.g. wild boar, mushrooms, and goat cheese. And of course oysters and mussels from the sea. the Languedoc harbours some of the biggest oyster banks in all of France.
The tour is led by one of BKWine's wine and travel expert guides.
---
.
More travel information
Here are some useful pages and guides about this travel destination:
Even more info
We have written a lot about the Languedoc and about wine touring in the region, what to do and what to expect.
Here you can find more about travelling in the Languedoc.
You can also find more information on the Languedoc wines on BKWine Magazine.
.
Books
This wine tour coincides with two of the books that we have written:
A few years back we wrote a book on the wines of the Languedoc, a pioneering work on the wine makers leading the quality revolution in this exciting wine region.
In mid-2012 we published our third book. the subject of this book is the environment: what is organic wines, biodynamic wines and other similar concept, like sustainable wine growing etc. The book is called Wine and the Environment, Organic, Biodynamic, and Natural.
Both these books are an excellent introduction to the themes of this wine tour to the Languedoc-Roussillon.
Can you find anyone better placed to give you an introduction to the wines and the food of the Languedoc?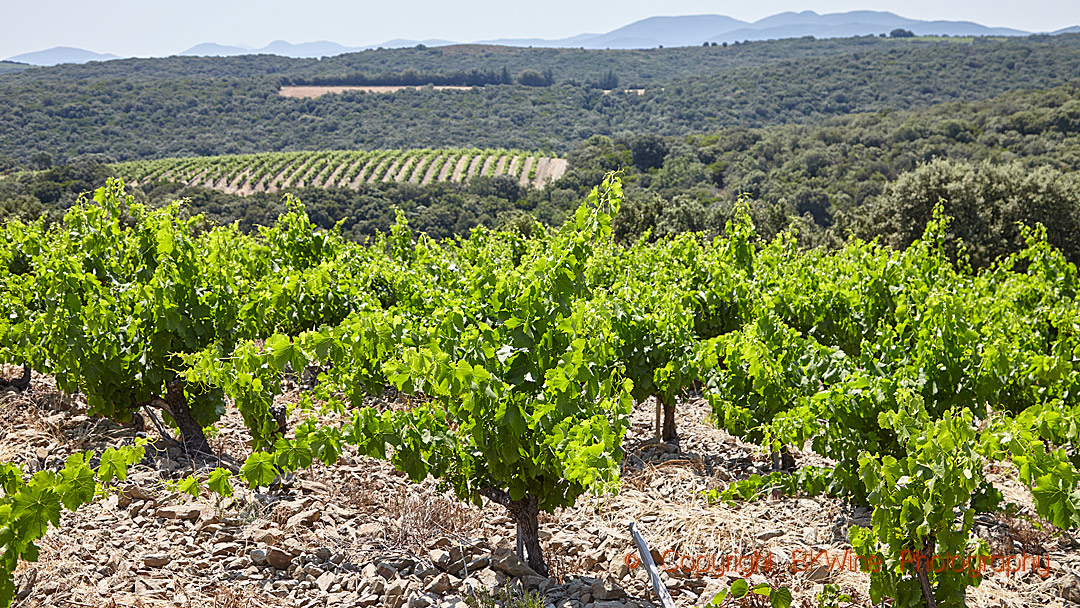 ---
.
Program — Languedoc-Roussillon wine tour
This is a sample program, an example. Every wine and food tour that we organise is different and specially adapted for the season and the circumstances. Details in the program, e.g. which producers we visit, will be different each time.
For more details, contact BKWine.
Program overview
Wednesday — Arrival in Montpellier
Thursday — Languedoc and around Terrasses du Larzac, the northern part
Friday — Roussillon
Saturday — Languedoc and around Pézenas, the southern part
Sunday — Heading back home
Wednesday, Day 1 — Arrival in Montpellier
Arrival in Montpellier. Check-in at our hotel in the city centre.
Our hotel is centrally located by the old historic city centre. It is one of the best preserved old cities in France. You can stroll along the narrow and winding streets, find ancient and beautiful churches on small town squares, and plenty of restaurants, cafes and wine bars of course.
Take a break from the walking on a side-walk cafe with a glass of the light and refreshing white wine from the region nearby called Picpoul de Pinet (made from the grape piquepoul!). It is a classic combination with shellfish. After the aperitif you will have no difficulties finding an excellent restaurant. We can give you our best addresses!
Thursday, Day 2 — Languedoc around the Terrasses du Larzac, the northern Part, Pic Saint Loup, Montpeyroux etc
Our bus will pick us up after breakfast at our hotel in Montpellier.
We head north towards the region that is called Terrasses du Larzac that includes famous villages like Aniane (with the pioneering Mas de Daumas Gassac, who have perhaps lost a bit of the lead to some of the newcomers), Montpeyroux and Jonquieres.
There are many interesting and ambitious producers in this area. They all aim to bring out the specific characteristics of the terroir in their wines.
The young generation of winemakers are typically very well educated and combine traditional grape varieties with a lot of attention to what is done in the vineyard although they also use modern technology when appropriate. But we will notice during our visits that in particular the organic winegrowers try to reduce the use of technology as much as possible.
When talking about organic wines it is usually the vineyards that is the subject but for most organic wineries it is just as important to be careful in the winery and not to use additives and intervention on the wine without very good reason.
After the morning visit we head off for lunch that will feature regional specialities. We will be welcomed for lunch by a winemaking family with a winery surrounded by vines and by the garrigue herbs, sage, thyme, rosemary and more, eponymous with the typical style of the wines in the Languedoc.
After the delicious lunch we have one more winery visit this day and then we start going south. After about an hour's drive we arrive in the town of Narbonne. We check in to our centrally located hotel. The evening is free to stroll around the character-full souther French city.
Narbonne has just under 50,000 inhabitants and it has a rich history, a magnificent cathedral and a very interesting old city centre. And not least importantly, a lot of good restaurants.
Friday, Day 3 — Roussillon
Today we will go even further south, to Roussillon, not far away from the Spanish border.
Roussillon used to be famous (and still is) for its sweet vin doux naturels (VDN) made from grenache or muscat. Today many producers also make high quality dry wines, mostly red.
They also make some stunning whites in the Roussillon, in spite of the very hot climate. We have arrived in the hottest and driest of the French regions. The vines, often old and gnarled grenache, have to struggle to survive, but this creates wine full of character.
We will visit a handful of producers in the villages around Perpignan, producers that often grow their vines organically or biodynamically and who spend a lot of their time in the vineyard in their effort to have as fine and healthy grapes as possible. A good wine is made in the vineyard, is their motto.
We will lunch on some of the regional specialities of the Roussillon. We are very close to the border of France, in what is called the French Catalonia so the links to Spain will be evident. As, by the way, they are in the whole of the Languedoc.
After lunch we will have a third winery visit this day and then we head back to Narbonne.
Early evening we will be back in Narbonne. Evening is free. When you stroll around in the old town you are sure to see many references to one of the most famous people from Narbonne, the French singer Charles Trenet who have immortalised songs like La Mer and La Douce France.
Saturday, Day 4 — Languedoc around Pezenas, the south, with Corbieres, Fitou and Minervois
Today we check out from our hotel in Narbonne.
We head north towards Beziers and Pezenas. Our destination is a small village called Gabian. We will stop here for a visit to a biodynamic wine producer and a very skilled winemaker. He is also lecturing at one of France's wine universities. He will explain, and show us, what biodynamic winemaking means in practice.
There is a lot of talk about all the strange things that the biodynamic winemakers do and therefore it is particularly interesting to have the opportunity to see it in real life. And perhaps get a confirmation of all the hokus pokus and superstition that it is sometimes said that it is based on.
Or alternatively see that there is some good reasons behind it and that it results in, at least sometimes, wines of outstanding quality. Whichever will be the case for you, the wines that we will taste here are magnificent.
The winery is one of the most original and exciting in the Languedoc. But there are of course many claimants for that title!
After a through view on the practice we will taste the range of wines and then will stay in this area for lunch. We are not far from Pezenas and perhaps we will get to taste the big speciality of this Medieval town, the Petits Pâtés de Pézenas, small patés filled with spicy lamb, brown sugar and lemon peel. Plus a lot of spices. Very original!
We will have time for an afternoon visit in the small village of Caux where a number of high-quality producers are located.
After the after-noon visit it is time to head back to Montpellier where we arrive early evening. We check in to our hotel and then you have a last free evening in Montpellier to discover any of the sights or restaurants or wine bars that you might have missed.
Sunday, Day 5 — Heading back home
The tour ends after breakfast. Departure.
Program may be subject to minor modifications.
---
.
Tour Details — Wine tour to the Languedoc-Roussillon
Dates: This is a sample program. Look in the menu "Our Tours > Scheduled Tours" to check what scheduled tours are currently on the program or contact us to discuss a custom made private wine tour.
Price per person: This is a sample program. Look in the menu "Our Tours > Scheduled Tours" to check what scheduled tours are currently on the program or contact us to discuss a custom made private wine tour.
Included in the price:
4 hotel nights, double occupancy, including breakfast

2 nights in Montpellier, and
2 nights in Narbonne

Meals as described in the program above (*):

3 gastronomic multi-course lunches, including wines, at wineries or local restaurants

Start and end point: Montpellier
Bus transport during the whole trip
All vineyard and winery visits
Private, high quality tastings at wineries, approx. 3 per day
Interpretation from French as needed, some visits may be in English, others in French
Wine guiding and wine tutoring by an expert BKWine guide
(*) See below for more important information on our meals.
Not included:
Travel (flights) to the destination and back from your home location.
You organise your travel to the destination yourself. If you want assistance with organising your flight tickets etc, please contact us.
We warmly recommend that you plan a few extra days here if you have the time! It is a very interesting place and well worth some "non-wine" tourism too! We can assist you with booking additional hotel nights if you want.
For this trip to take place we must have a minimum of 4 participants registered at the "book before" date. Maximum number of travel guests: 8.
Book This Tour
Book before: [this is a sample programme]
Booking is confirmed by paying the booking fee of [sample programme, this varies by trip]. Full payment should be received at the latest [sample programme, usually one month or 60 days, depending on the trip] before the departure date (see our terms and conditions). Details on how to pay will be sent to you when you register.
It is important that you read our travel booking terms and conditions.
We also invite you to read more on why you should travel with BKWine, about customer protection, and about what you can expect from our wine tours in the section below "More on our wine tours".
You book by contacting Britt Karlsson, BKWine:
phone: +33 1 58 88 04 66 or +33 6 80 45 35 70 (+33 is the country code for France)
Skype: "bkwine". Call us on skype.
email: info@bkwine.com, or use the contact form below
"I want to book this tour" or "I want more info"
* = required
Important: We automatically send you a copy of this email when you submit it. If you have not received it within a few minutes: 1) check your spam folder, 2) consider resending it, you might have misspelled your email address. Or simply send us a normal email using our address noted just above.
Share this tour programme with your friends
Maybe your friends want to come with you on this wine tour? Let them know about the programme and ask if they'd like to join you. Share the info on social networks or send an email to your friends:
More on our wine tours
Why travel with BKWine?
We are Britt and Per Karlsson. We are specialists in wine and food tours and wine tourism, but also experts in wine in general. We are internationally published wine writers and have written ten award-winning wine books.
No other tour operator has a comparable knowledge and experience of wine, wine regions, wine tourism and gourmet travel.
We have organised hundreds of wine and food tours, and this is what we love to do. We take it very seriously – it is not a sideline or a hobby – and what we want more than anything is to share all these wonderful experiences with you.
All our tours are led and managed by guides who have in-depth wine knowledge, and in many cases we lead the tours ourselves.
Read more on why you should choose BKWine for your wine and food tour.
Thousands of happy customers
Over the years, thousands of wine lovers have travelled with us. Many come back to tour again and again with BKWine to new wine regions. Our record-breaking client has been on more than ten BKWine tours. We are happy and proud to have such faithful customers.
Read more on what travellers have said about our tours.
Awards and Mentions
We're pleased and proud to have received many accolades, including:
"World's Top Wine Tours", Travel+Leisure Magazine, the world's biggest travel magazine
"Best wine tasting holidays", AOL Travel's list of top wine tours
"Recommended Wine Tours", Munskänkarna, the world's biggest wine appreciation association
"World's Best Wine Book for Professionals" as well as "Best Wine Book of the Year", Gourmand International awards, and many other book prizes
Three OIV book awards, International Organisation of Vine and Wine

"Wine Personality of the Year", an honour bestowed on Britt Karlsson by Munskänkarna in 2011, the world's biggest wine appreciation association
Inclusion on the Wine Media Power List, by Wine Business International magazine
About the wine producers and wineries we visit
Our aim is for you to experience some of the very best and most interesting aspects of the wine world, in terms of wine and food.
We put great effort into creating outstanding winery visits, and in this way we are quite different to many wine tour organisers. It is not always the most renowned, internationally known estates that offer the best experiences. Organising a wine tour featuring famous names of the wine world is relatively easy: it is merely a question of making lists and ticking boxes. On those kind of "bucket list" wine tours, you rarely meet the winemaker or the owner. You will simply be one of thousands of visitors they receive each year.
We do things differently. With BKWine Tours, you will meet the people behind the label, often the winemakers and/or the owners. Thanks to them, you will have a unique, truly personal experience and an insight into the wine world that no one else can offer. When you travel with BKWine, you are more like a special guest than a tourist.
We have personal connections and unparalleled knowledge thanks to more than 20 years as wine journalists, with 10 wine books published, and as wine tour organisers with more than 30 years' experience. You can be sure of getting the best wine travel experiences with BKWine Tours.
Read more on the wine producers and wineries we visit.
A true gourmet experience: food and gastronomy
For us, wine and food are intimately linked, and this is a fundamental part of our wine travel philosophy. For this reason, a wine tour with BKWine is always an outstanding culinary experience both for the wine enthusiast and for the gourmet. A BKWine tour is a gastronomic voyage that explores the deep relationship between food and wine.
Read more On Meals: Food and Gastronomy on Our Tours.
Customer Protection,  Financial Travel Guarantee, and Terms and Conditions
You can always feel safe when you book your tour with BKWine. BKWine has a bonded bank guarantee that gives full protection according to EU and Swedish law. BKWine is a Swedish limited company and as such is regulated by strict rules.
Read more on Customer Protection, Financial Travel Guarantee. and our Terms and Conditions.
When you book a tour it is important that you read the terms and conditions. BKWine's booking terms and conditions follow the guidelines developed by the Consumer Protection Agency.
Health, vaccination and allergies
Our tours have no particular health requirements although inevitably we will be walking a certain amount in wine cellars and vineyards. Sensible footwear is a must.
Most of our travel destinations have no particular health guidelines or requirements for vaccinations or medical certificates, but if in doubt, you should always consult a medical professional, vaccination centre or relevant embassy in your country of origin.
We can always accommodate food allergies. However, in order for us to manage such requests you must let us know about any allergies before the tour starts.
Read more in our FAQ and in our Terms and Conditions.
Travel insurance
BKWine does not sell travel insurance. If you want travel insurance, check if your regular home insurance policy includes some kind of travel insurance, or contact your regular insurance company or a travel insurance specialist.
Custom Tours
We also offer custom wine and food tours if you want to travel on different dates, or if you want something different to what we currently offer on our scheduled tours. This tailor-made service can be offered for individuals, companies, professionals, wine tastings clubs etc.
Important information
Our groups are always small. The number of people in the group may vary. The maximum can range from 8 to around 20; check the details in each programme. But our groups are always modest in size. This is important because it guarantees a quality experience and a personal welcome at the wineries we visit.
Read the BKWine Booking Terms and Conditions here. They are important to you!
You are expected to organise your travel independently to the destination for most of our tours, but once you are at the location, we take care of everything.
For more inspiration
Read our wine travel blog. For more, read our online wine magazine the BKWine Magazine with articles from all over the wine world.
And also:
Recommend this trip to a friend using the share buttons below
Newsletter on wine
Subscribe to our free wine and travel newsletter, the BKWine Brief. Each month, it gives you news from the world of wine, restaurant recommendations, tips on our favourite wine producers and much more. It will also keep you updated on forthcoming wine and food tours.