The Three Classics Wine Tour: to Champagne, Chablis and Burgundy (or Sancerre)
— We call this trip The Three Classic! It takes you to three of the most classic wine regions in France: Champagne, Chablis and Burgundy. And all this we fit in on an extended weekend, Wednesday to Sunday. This wine tour is for those who want to experience a lot in a short time!
"Three Classics" always includes Champagne and Chablis. The third wine district included is either Burgundy, the heart of the district, the Côte d'Or, or alternatively Sancerre. If we go to Beaune in the Côte d'Or or if it goes to Sancerre varies. Both will take you to taste some amazing, top notch wines, great vineyards and superb gastronomic experiences!
Program    |    Travel facts    |    Book    |    More on the tour
.
Next tour to Champagne, Chablis, Burgundy:
This is a sample program, an example. Every wine and food tour that we organise is different and specially adapted for the season and the circumstances. Details in the program, e.g. which producers we visit, will be different each time.
.
If you want to experience a lot in a short time, this is the trip for you. But that does not mean we are in a rush. We have time for several interesting visits in each district and many, many wines to taste.
The journey starts in Paris. We meet on Wednesday afternoon at the Gare de Lyon in central Paris. Our bus is waiting to take us to Epernay in Champagne.
Champagne is the wine region closest to Paris. There is no other wine that so immediately makes you feel like celebrating as Champagne. The heavy bottle, the little plop and fizz when you open the bottle, the sound of the bubbles in the glass, the bouquet, the taste. Everything about champagne makes you happy.
But on this wine tour we will discover that Champagne is so much more than a drink only for celebrations. It is above all a high-quality wine! And it is only when you come here to Champagne that you can really understand how the magic sparkling wine is made.
We will do two or three visits to Champagne and enjoy a sumptuous champagne lunch. You will learn a lot about how Champagne is made and why sparkling wine made in this small region is different than those made elsewhere.
After Champagne the journey continues towards Chablis, a wine district 200 kilometres south of Champagne. We will drive thorough the beautiful French countryside after a lovely champagne lunch. In Chablis, we will stay in the elegant Hostellerie des Clos and we will have dinner together at the hotel's gourmet restaurant. During dinner you will get a quick introduction to the wines of Chablis and to the region.
The next morning, it's time to visit some famous Chablis producers. Here in Chablis the chardonnay grape gets a very special character: crisp, aromatic, clean, thanks both to the northerly climate and the absence (in most cases) of oak ageing, and due to the calcareous Kimmeridge soil. This makes the wines of Chablis into some of the most elegant white wines there is. You will get an understanding of the different wine styles and the quality levels that you can find here in Chablis.
On Friday, we visit some well-known and quality conscious producers in Chablis and get a close look at Grand Cru and Premier Cru wines and vineyards.
After lunch we continue south in Burgundy, to the Côte d'Or and the charming little town of Beaune. We arrive there early evening. You will have time for a bit of sightseeing before you head out to find your choice among Beaune's many restaurants. Beaune is a gem among French provincial towns with a lot of interesting sites, cafés, wine bars and restaurants.
On Saturday, we drive north to the first vineyards in the Côte de Nuits. We pass villages with well-known names such as Nuits-Saint-Georges, Vosne-Romanée, Morey-Saint-Denis, Gevrey-Chambertin… In Fixin, just north of Gevrey, we will have lunch at a small wine grower's home and we will taste a number of his wines. We will spend the afternoon in the Côte de Beaune with a few quality conscious growers.
Sunday morning after breakfast we head back to Paris where we arrive no later than 13.00.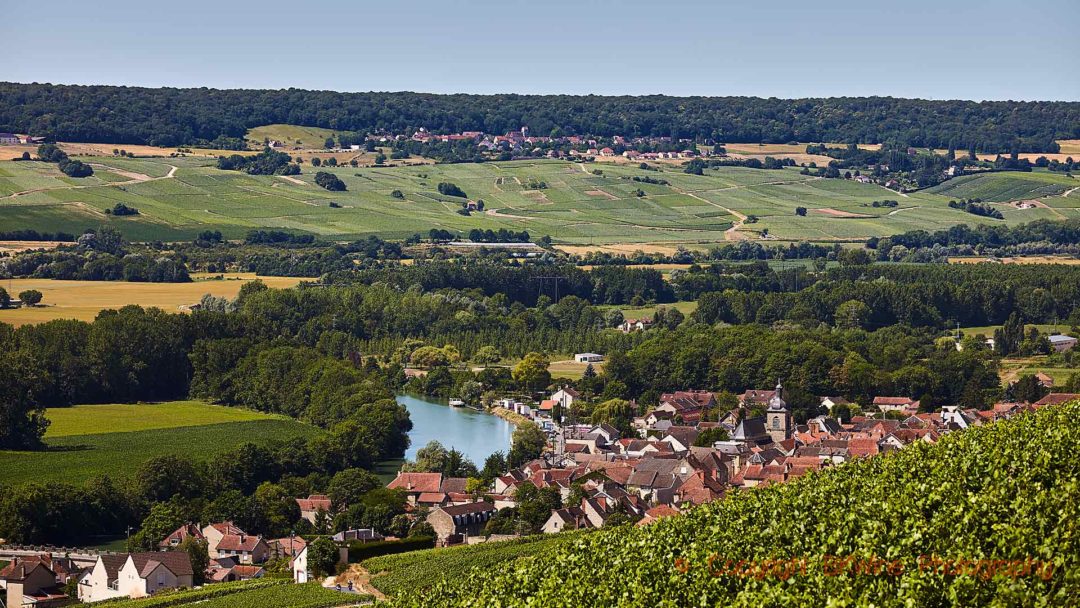 If we include Sancerre instead of Beaune on this trip it will be a little bit different:
We will stay in the small country-side town of Sancerre, perched on a hill-top with spectacular views of the surrounding vineyards.
In the morning we begin to explore the vineyards of Sancerre. Sauvignon blanc is a grape that has had a great success in many other countries in recent years. But here in Sancerre in the upper Loire Valley is where it really belongs and thrives, in the calcareous soil, actually almost the same type of soil such as that found in Chablis. A crisp Sancerre with aromas of elderflower, gooseberry and green apple is the perfect match with another of the region's specialities, the French goat cheese called chèvre.
We will visit a selection of high-quality Sancerre producers. Late afternoon we will head north towards Chablis. We change not only wine region, but also grape variety. In Chablis we are in Burgundy and the grape is chardonnay.
The tour is led by one of BKWine's wine and travel expert guides.
---
.
More travel information
Here are some useful pages and guides about this travel destination:
Even more info
We have written a lot about the Three Classics wine regions and about wine touring in these region, what to do and what to expect.
Here you can find more about travelling on the Three Classics tour.
You can also find more information on Champagne, Burgundy, Chablis, and Sancerre wines on BKWine Magazine.
.
Some videos
A few video clips from this wine tour's wine regions.
.
Program — wine tour to Champagne, Chablis, Burgundy / Sancerre
This is a sample program, an example. Every wine and food tour that we organise is different and specially adapted for the season and the circumstances. Details in the program, e.g. which producers we visit, will be different each time.
Program overview
Day 1, Wednesday — The journey begins in Paris
Day 2, Thursday — Champagne
Day 3, Friday — Chablis
Day 4, Saturday — Burgundy, Côte d'Or (or Sancerre)
Day 5, Sunday — Return to Paris, heading back home
Wednesday, Day 1 — The journey begins in Paris
At 5 PM our bus departs from Gare de Lyon in the 12th arrondissement of Paris. We head east, and after about 2 ½ hours we arrive in Epernay. We check into our three-star Hôtel du Champagne.
The evening is free to stroll around town and to explore the wine bars and restaurants of Epernay. Do not miss the Avenue de Champagne with its impressive series of private palaces that today are home to many of the big and famous champagne houses.
Thursday, Day 2 — Champagne
We check out of our hotel after breakfast and we begin our journey of wine exploration. Epernay is right in the middle of the wine district and we quickly among the vines.
We will visit a small family property not far from Epernay. They will give us an introduction to how champagne is made, the special techniques that are used. The visit ends with a tasting of the family's range of champagnes.
We then continue further along the Marne River to the small town of Mareuil-sur-Aÿ where we will visit the prestigious house Champagne Philipponnat.
The house is known among other things for the vineyard Clos de Goisses, a more than 5 hectare big walled vineyard with one of Champagne's most exceptional situations and exposures: a steep, sunny southern slope down towards the river Marne.
At Philipponnat we will also have a fabulous gourmet lunch with a selection of the house's best champagnes, including the Clos de Goisses. After lunch we will go for a short walk up to the fabled Clos des Goisses vineyard. It might be nice to stretch your legs after some half a dozen champagnes or so and many delicious Champagne food specialities that you have been treated to during lunch.
We also look take a look at the new trend of champagnes without sugar, called ultra-brut, non-dosé or zéro dosage.
After lunch we will head to Chablis. It will be a nice rest in the bus after a lunch that will certainly have taken some time. The journey will take you through the beautiful French countryside, on country roads, through small towns.
At around 7 PM we check into our hotel in the centre of Chablis, the characterful Hostellerie des Clos. Here we will enjoy a sumptuous dinner at the hotel's gourmet restaurant. During dinner we will taste several different Chablis wines and do some preparations for the visits the following day.
Friday, Day 3 — Chablis
After an excellent breakfast we set off into the vineyards of Chablis. There are several quality levels – Grand Cru, Premier Cru, Chablis and Petit Chablis – and you will get to know them all.
We will visit two or three of the
most quality-conscious producers who will make you acquainted with the various Grand Cru and Premier Cru vineyards. One of the visits will be at Domaine Brocard, perhaps the most internationally successful of all Chablis producers.
Today it is mainly Julien Brocard, son of Jean-Marc, who runs the winery. Part of the production is now organic and biodynamic wines. The way Brocard works in the cellar, in terms of vinification and ageing, has changed a lot since Julien took over and the wines are now more complex and better than ever.
At Brocard's we also have lunch with an extensive tasting of the winery's wines.
After lunch we continue south to the heart of Burgundy, the Côte d'Or and the pleasant town of Beaune, perhaps France's most famous "wine village". We check into our hotel which is centrally located, close to the magnificent Hôtel Dieu, also known as the Hospices de Beaune, one of France's major historical attractions, as well as close to all the restaurants.
The evening is free.
Saturday, Day 4 — Burgundy, Côte d'Or, alternatively Sancerre
The distances are fortunately quite short here in the Côte d'Or, so we will have enough time to visit three different producers on this day.
We start in Gevrey-Chambertin, in the north of the Côte de Nuits, known for its full-bodied red wines and for its many Grand Cru vineyards.
Here in the northern part of Côte d'Or pinot noir is the man grape variety. It gives complex and elegant red wines.
We continue to Fixin where we first go for a short walk to look at the vines and to talk about the all-important work in the vineyard. We will get an introduction to the importance of provenance and terroir.
After the vineyard walk our hosts will invite us to a true home-made buffet lunch at home in his wine cellar.
After lunch our tour continues south, towards the famous Corton Hill where we will visit one of the small high-quality growers in Aloxe-Corton.
We end the day with a tour of the vineyards in Meursault and in Puligny-Montrachet in the southern part of the Côte de Beaune. Her you find the famous (and very expensive) Le Montrachet Grand Cru as well as many Premier Cru wines. The southern Côte d'Or is primarily known for its white wines made from chardonnay grapes.
The evening is free to further enjoy the small-town atmosphere in Beaune and perhaps one or two more glasses of wine. For being such a small town Beaune has an impressive variety of restaurants, ranging from the simple brasserie to excellent sushi to high-class French gourmet restaurants with reaching absolute top quality.
If instead the tour schedule includes Sancerre the details will be somewhat different:
Our hotel in Sancerre is beautifully located on the edge of the small town and certainly deserves its name, Panoramic.
We will visit a selection of high-quality producers in Sancerre and will learn what are the key factors in producing this crisp, aromatic and elegant wine.
Our visits include the superb producer Henri Bourgeois and we will have lunch right next to the winery at the La Côte des Monts Damnés restaurant in Chavignol. Chavignol is also known for its small round goat cheese, le Crottin de Chavignol, a special kind of French chèvre. The restaurant is run by the chef Jean-Marc Bourgeois who is, of course, par of the wine producing family.
You will also get the opportunity to take a walk in the vineyard to inspect the vines and marvel at the surprisingly steep slopes where this wine is produced.
Sunday, Day 5 — Heading back home
Departure.
After breakfast we go back to Paris and the Gare de Lyon. We expected to arrive no later than 1 PM.
Program may be subject to minor modifications.
---
.
Tour Details — Wine Tour Three Classics: Champagne, Chablis, Burgundy / Sancerre
Dates: This is a sample program. Look in the menu "Our Tours > Scheduled Tours" to check what scheduled tours are currently on the program or contact us to discuss a custom made private wine tour.
Price per person: This is a sample program. Look in the menu "Our Tours > Scheduled Tours" to check what scheduled tours are currently on the program or contact us to discuss a custom made private wine tour.
Included in the price:
4 hotel nights, double occupancy, including breakfast, at good mid-range hotel:

1 night in Epernay
1 night in Chablis
2 nights in Beaune

Meals as described in the program (*):

1 gastronomic and luxurious multi-course lunch, all champagne, with the Champagne house's wines, including wine
2 gastronomic French multi-course lunches with local specialities, with a tasting of different wines, at a winery or a local restaurant, including wine
1 gastronomic 4-course dinner with a selection of Chablis wines in a gourmet restaurant, including wine

Start and end point: Paris
Bus: Paris – Champagne – Chablis – Beaune – Paris
All vineyard and winery visits
Private, high quality tastings at wineries, approx. 3 per day
Translation as needed, some visits may be in English, others in French
Wine guiding and wine tutoring by an expert BKWine guide during the whole trip
(*) See below for more important information on our meals.
Not included:
Travel (flights) to the destination and back from your home location.
You organise your travel to Paris yourself. If you want assistance with organising your flight tickets etc, please contact us.
We warmly recommend that you plan a few extra days here if you have the time! It is a very interesting place and well worth some "non-wine" tourism too! We can assist you with booking additional hotel nights if you want.
For this trip to take place we must have a minimum of 4 participants registered at the "book before" date. Maximum number of travel guests: 8.
Book This Tour
Book before: [this is a sample programme]
Booking is confirmed by paying the booking fee of [sample programme, this varies by trip]. Full payment should be received at the latest [sample programme, usually one month or 60 days, depending on the trip] before the departure date (see our terms and conditions). Details on how to pay will be sent to you when you register.
It is important that you read our travel booking terms and conditions.
We also invite you to read more on why you should travel with BKWine, about customer protection, and about what you can expect from our wine tours in the section below "More on our wine tours".
You book by contacting Britt Karlsson, BKWine:
phone: +33 1 58 88 04 66 or +33 6 80 45 35 70 (+33 is the country code for France)
Skype: "bkwine". Call us on skype.
email: info@bkwine.com, or use the contact form below
"I want to book this tour" or "I want more info"
* = required
Important: We automatically send you a copy of this email when you submit it. If you have not received it within a few minutes: 1) check your spam folder, 2) consider resending it, you might have misspelled your email address. Or simply send us a normal email using our address noted just above.
Share this tour programme with your friends
Maybe your friends want to come with you on this wine tour? Let them know about the programme and ask if they'd like to join you. Share the info on social networks or send an email to your friends:
More on our wine tours
Why travel with BKWine?
We are Britt and Per Karlsson. We are specialists in wine and food tours and wine tourism, but also experts in wine in general. We are internationally published wine writers and have written ten award-winning wine books.
No other tour operator has a comparable knowledge and experience of wine, wine regions, wine tourism and gourmet travel.
We have organised hundreds of wine and food tours, and this is what we love to do. We take it very seriously – it is not a sideline or a hobby – and what we want more than anything is to share all these wonderful experiences with you.
All our tours are led and managed by guides who have in-depth wine knowledge, and in many cases we lead the tours ourselves.
Read more on why you should choose BKWine for your wine and food tour.
Thousands of happy customers
Over the years, thousands of wine lovers have travelled with us. Many come back to tour again and again with BKWine to new wine regions. Our record-breaking client has been on more than ten BKWine tours. We are happy and proud to have such faithful customers.
Read more on what travellers have said about our tours.
Awards and Mentions
We're pleased and proud to have received many accolades, including:
"World's Top Wine Tours", Travel+Leisure Magazine, the world's biggest travel magazine
"Best wine tasting holidays", AOL Travel's list of top wine tours
"Recommended Wine Tours", Munskänkarna, the world's biggest wine appreciation association
"World's Best Wine Book for Professionals" as well as "Best Wine Book of the Year", Gourmand International awards, and many other book prizes
Three OIV book awards, International Organisation of Vine and Wine

"Wine Personality of the Year", an honour bestowed on Britt Karlsson by Munskänkarna in 2011, the world's biggest wine appreciation association
Inclusion on the Wine Media Power List, by Wine Business International magazine
About the wine producers and wineries we visit
Our aim is for you to experience some of the very best and most interesting aspects of the wine world, in terms of wine and food.
We put great effort into creating outstanding winery visits, and in this way we are quite different to many wine tour organisers. It is not always the most renowned, internationally known estates that offer the best experiences. Organising a wine tour featuring famous names of the wine world is relatively easy: it is merely a question of making lists and ticking boxes. On those kind of "bucket list" wine tours, you rarely meet the winemaker or the owner. You will simply be one of thousands of visitors they receive each year.
We do things differently. With BKWine Tours, you will meet the people behind the label, often the winemakers and/or the owners. Thanks to them, you will have a unique, truly personal experience and an insight into the wine world that no one else can offer. When you travel with BKWine, you are more like a special guest than a tourist.
We have personal connections and unparalleled knowledge thanks to more than 20 years as wine journalists, with 10 wine books published, and as wine tour organisers with more than 30 years' experience. You can be sure of getting the best wine travel experiences with BKWine Tours.
Read more on the wine producers and wineries we visit.
A true gourmet experience: food and gastronomy
For us, wine and food are intimately linked, and this is a fundamental part of our wine travel philosophy. For this reason, a wine tour with BKWine is always an outstanding culinary experience both for the wine enthusiast and for the gourmet. A BKWine tour is a gastronomic voyage that explores the deep relationship between food and wine.
Read more On Meals: Food and Gastronomy on Our Tours.
Customer Protection,  Financial Travel Guarantee, and Terms and Conditions
You can always feel safe when you book your tour with BKWine. BKWine has a bonded bank guarantee that gives full protection according to EU and Swedish law. BKWine is a Swedish limited company and as such is regulated by strict rules.
Read more on Customer Protection, Financial Travel Guarantee. and our Terms and Conditions.
When you book a tour it is important that you read the terms and conditions. BKWine's booking terms and conditions follow the guidelines developed by the Consumer Protection Agency.
Health, vaccination and allergies
Our tours have no particular health requirements although inevitably we will be walking a certain amount in wine cellars and vineyards. Sensible footwear is a must.
Most of our travel destinations have no particular health guidelines or requirements for vaccinations or medical certificates, but if in doubt, you should always consult a medical professional, vaccination centre or relevant embassy in your country of origin.
We can always accommodate food allergies. However, in order for us to manage such requests you must let us know about any allergies before the tour starts.
Read more in our FAQ and in our Terms and Conditions.
Travel insurance
BKWine does not sell travel insurance. If you want travel insurance, check if your regular home insurance policy includes some kind of travel insurance, or contact your regular insurance company or a travel insurance specialist.
Custom Tours
We also offer custom wine and food tours if you want to travel on different dates, or if you want something different to what we currently offer on our scheduled tours. This tailor-made service can be offered for individuals, companies, professionals, wine tastings clubs etc.
Important information
Our groups are always small. The number of people in the group may vary. The maximum can range from 8 to around 20; check the details in each programme. But our groups are always modest in size. This is important because it guarantees a quality experience and a personal welcome at the wineries we visit.
Read the BKWine Booking Terms and Conditions here. They are important to you!
You are expected to organise your travel independently to the destination for most of our tours, but once you are at the location, we take care of everything.
For more inspiration
Read our wine travel blog. For more, read our online wine magazine the BKWine Magazine with articles from all over the wine world.
And also:
Recommend this trip to a friend using the share buttons below
Newsletter on wine
Subscribe to our free wine and travel newsletter, the BKWine Brief. Each month, it gives you news from the world of wine, restaurant recommendations, tips on our favourite wine producers and much more. It will also keep you updated on forthcoming wine and food tours.