A wine tour to the splendours of Sicily, the wine, the food and the sunshine
— Sicily is becoming one of the "hot" wine regions in Italy. They have their own unique grape varieties that give wines filled with fruit and freshness. Nero d'avola, for example, makes powerful yet fresh wines. The quality has increased with meteoric speed the last few decades. It is also an island filled with culture and a rich history. They have their very own gastronomy; Sicilian food has nothing to envy the rest of Italy: fresh fish, sun-ripened vegetables and much more. And plenty of sunshine and warmth!
Program    |    Travel facts    |    Book    |    More on the tour
.
Next wine tour to Piedmont:
This is a sample program, an example. Every wine and food tour that we organise is different and specially adapted for the season and the circumstances. Details in the program, e.g. which producers we visit, will be different each time.
. The biggest island of the Mediterranean has a very special charm. Perhaps it is the location that almost touches North Africa. Or the majestic landscape dominated by mountains and not least Etna, the volcano. Or the Greek heritage that is noticeable everywhere, for examples the temples, the arenas, and the harbour town of Syracuse. Then there is the wine! Wines that are just getting better and better, something that you will notice for yourself on this very interesting and exciting wine tour. You can find vines all over Sicily. We will concentrate on the eastern and south-eastern regions: the vineyards in the black volcanic soil on Etna and the new stars around the cities of Ragusa, Vittoria, Syracuse and Pachino on the south-east tip of the island. To cover the entire island in a few days is impossible. It is a mountainous landscape and getting around takes time. Only 14% of the island is flat land. But that also means that the landscape is beautiful, spectacular, and with a very long Mediterranean coast line. A long time ago Sicilian wines were almost synonymous with Marsala. But that is indeed a very long time ago. This sweet and fortified wine is still produced on the western part of Sicily but today more people think of Moscato de Pantelleria, if you are looking for a sweet wine.
But the big thing now is the table wines. First the red wines. They can be full-bodied, made from the nero d'avola grape that is a recent international success story. Or it can be white wine from grapes like inzolia, catarratto and carricante. These red and white wines are our main focus on this tour among the Sicilian vineyards. In many southern countries the wines tend sometimes to become overly powerful. Not so here. There are local, traditional grape varieties well adapted to the hot climate of the island. The Sicilian grapes can also make full-bodied wines but they always maintain a fresh and fruity acidity, making the wines very balanced and enjoyable. We will discover a whole family of grape varieties, both red and white, that few people are familiar with today, that have not yet reach international fame. But it will come! We will stay in Catania the first and the last night. You arrange for your own travel to Catania. They have good flight connections with most of Europe. The second and third night we stay in Syracuse, an ancient city founded by the Greeks. It was an important city in both the Greek and Roman empires. Syracuse has an amazing and charming old city centre filled with old houses, churches and private palaces. We are not far from Greece and that also shows on the gastronomy. We will enjoy gourmet lunches together, often along with a wine tasting, as guests of wine producers. Evenings are free for your own explorations.
The tour is led by one of BKWine's wine and travel expert guides.
---
.
More travel information
Here are some useful pages and guides about this travel destination:
Even more info
We have written a lot about
Sicily
and about wine touring in the region, what to do and what to expect.
Here you can find more about travelling in the Sicily wine regions.
You can also find more information on the
wines from Sicily on BKWine Magazine
.
---
.
Program — Sicily wine tour
This is a
sample program, an example
. Every wine and food tour that we organise is different and specially adapted for the season and the circumstances. Details in the program, e.g. which producers we visit, will be different each time.
For more details, contact BKWine.
Program overview
Wednesday — Arrival in Catania
Thursday — Etna, on the slopes of the volcano
Friday — Ragusa, Vittoria, the inland regions and the origin of nero d'avola
Saturday — Noto, Pachino, Sicily's southern tip
Sunday — Heading back home
Wednesday, Day 1 — Arrival in Catania
Arrival in Catania and check-in at our centrally located hotel. From the airport it is a 20 minutes drive to the city. Catania is the second city in Sicily, after Palermo, and is dominated by its closeness to Etna, the volcano. It is an active volcano and every once in a while a think layer of black dust, ashes, cover the streets of Catania. Like many other cities on Sicily, Catania was completely destroyed by the earthquake in 1693 and was totally rebuilt in Baroque style. There are many beautiful baroque buildings dating from that time, as well as churches and not least the Doumo, the impressive cathedral. The evening is free for you to enjoy the city. Perhaps a glass of catarratto for aperitif? The white catarratto grape is the most widely planted variety on Sicily.
Thursday, Day 2 — Etna, on the slopes of the volcano
Our bus picks us up in the morning after breakfast and we head north, towards Etna (sometimes spelled Aetna). Etna is Europe's biggest active volcano. It is also one of Europe's most spectacular wine regions. This is where you find nerello mascalese, planted on the slopes of the volcano in the black soil. The vineyards are mostly on high altitude, up to 1000 metres. They are mostly trained in the traditional
alberello
fashion, like small gnarled bushes. Nerello mascalese thrive in the black soil. It is like fine sand allowing the roots to penetrate deep down. Hot daytime temperatures and cool nights make for a long growing season. Harvest can be as late as the middle of October or even November. Etna is one of the "hottest" wine regions in Italy today, talking about trends. More and more wine producers arrive here and buy land, both other parts of Sicily, from mainland Italy and from other countries. It is clear that there is a tremendous potential for quality, judging from other winemakers' interest in the region.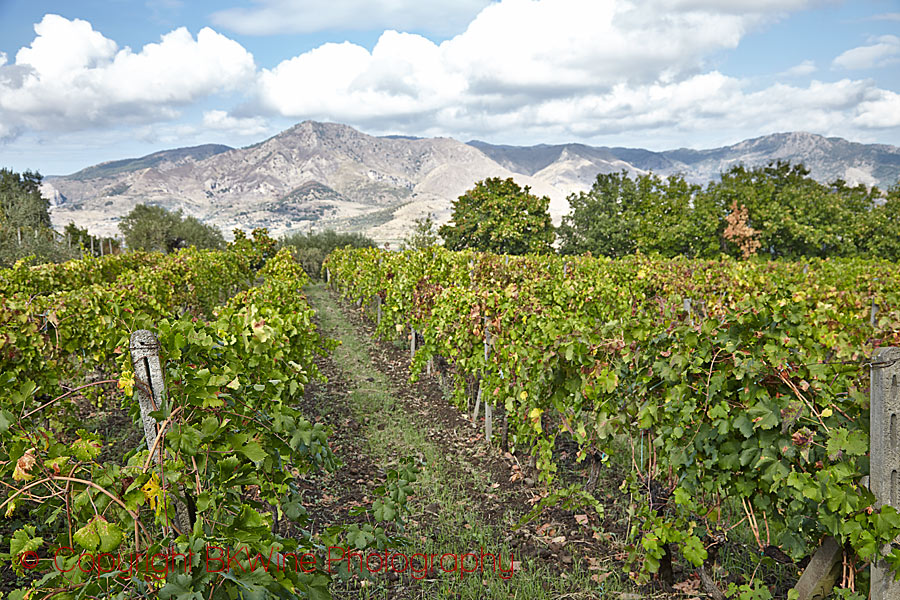 Winding roads bring us up to the northern face of the volcano. We aim for a small village called Passopisciaro at 600 m altitude. Here is where we find Tenuta di Passopisciaro, created by Andrea Franchetti some ten years ago. In addition to nerello mascalese he also grows petit verdot. The volcanic soil is difficult to work but it is worth the effort, says the winemaker. We do not need to travel far to get to our next winery. It is owned by Frank Cornelissen, originally from Antwerp. He belongs to the "natural wine school" whose credo is to do as little as possible to the wines during vinification. He even ages his wine in terracotta amphorae buried in the soil. "Natural wine" is one of the big subjects of debate in (some parts of) the wine world today. This visit will give us an occasion to see what they are really worth! We will stop for lunch in the small village of Randazzo, on the north-west side of the volcano, at a
trattoria
where the whole family is involved. They will serve us plenty of delicious Sicilian specialities. In the afternoon we head south. Our target is the wonderful town of Syracuse, about an hour's drive from Catania. We will stay here two nights in a hotel with only two steps to the sea. Evening is free to explore Syracuse.
Frida, Day 3 — Ragusa, Vittoria, the inland regions and the origin of nero d'avola
Today is dedicated mainly to the nero d'avola grape, the best know variety of Sicily. We will bas close to the city of Avola that has given its name to the grape. We are heading towards Ragusa and Vittoria. Not far from Vittoria we will visit a producer with the short name of COS, a very ambitious and interesting winery. The owner, Giusto Occhipinti, farms the vineyards organically. With the excellent Sicilian weather there is no need for chemicals, he says. He ages his wines in a very traditional way, in clay amphorae buried in the earth. He has a whole building entirely dedicated to the wine-filled amphorae. What difference does it make for the wine? You will taste it and decide for yourself! Gulfi is a beautiful estate near the village of Chiaramonte. The Gulfi winery was created in the middle of the 1990s. They use the indigenous grape varieties, the white carricante and albanello, making a dry and full-bodied white wine with hints of peaches. For the reds they use, among other grapes, nero d'avola. Their Nerosanlore is full of aromas and concentrated. We will have the opportunity to taste these wines together with food since at the Gulfi winery they also have a top-class restaurant. You even have a view over fermentation tanks in the vat hall from the restaurant.
The restaurant at Gulfi is one of the most ambitious that we have seen at a winery. They serve local specialities, absolutely fresh ingredients, often with a lot of fish and seafood. Their home-made bread is divine as is their own olive oil made from an olive called
tonda iblea
. We can promise you a delicious gastronomic experience at the level of international top class restaurants. This day will also feature Cerasuolo di Vittoria, the first and so far only DOCG (Denominazione di Origine Controllata et Garantita, the highest quality label in Italy). It is a blend of the frappato and the nero d'avola grapes, grown primarily in the vineyards between Ragusa and Vittoria. Frappato gives it some hints of cherries and a wine made only from frappato is light in body. Some Cerasuolo di Vittoria are made for easy drinking, others are made with very low yields and get more concentration. We arrive back in Syracuse late afternoon. The evening is free to explore on of the many restaurants, perhaps in the harbour with fresh fish and some wine from yet another winery?
Saturday, Day 4 — Noto, Pachino, Sicily's southern tip
Today we go south from Syracuse towards the baroque town of Noto. We are heading to the southern-most tip of Sicily, to the region called Pachino. It is known for its high-quality wines made from nero d'avola. They have several different types of soil each giving a distinct character to the wines. Nero d'avola is indeed the base for the wines that Antonio Moretti makes at the Feudo Maccari winery in Pachino. Delicious and well balanced. He works with one of Italy's most famous oenologist, Carlo Ferrini. Near Syracuse the Pupillo family have their beautiful family estate. Their wines are highly prized and they make both dry, semi-sweet, and sweet wines. One of the grapes they use is the rare muscato di siracusa but they also use nero d'avola and other Sicilian varieties. The lunch this day will be at one of the wineries we visit. They have prepared a number of Sicilian specialities for us, like
pasta con fave
(with beans and grated pecorino cheese),
cannolo
(a delicious crunchy cake filled with sweet goat ricotta), grilled sardines, octopus, or lamb stew. After the last visit of the day we return to Catania for our last night. The evening is free to once more explore the restaurants and the night-life of this bustling city.
Sunday, Day 5 — Heading back home
The tour ends after breakfast. Departure. Program may be subject to minor modifications.
---
.
Tour Details — Wine tour to Sicily
Dates
:
This is a sample program. Look in the menu "Our Tours > Scheduled Tours" to check what scheduled tours are currently on the program or contact us to discuss a custom made private wine tour.
Price per person
:
This is a sample program. Look in the menu "Our Tours > Scheduled Tours" to check what scheduled tours are currently on the program or contact us to discuss a custom made private wine tour.
Included in the price:
4 hotel nights, double occupancy, including breakfast

2 nights in Catania, and
2 nights in Syracuse

Meals as described in the program above (*):

3 gastronomic multi-course lunches, including wine, at wineries or local typical restaurants

Start and end point: Catania
Bus transport during the whole trip
All vineyard and winery visits
Private, high quality tastings at wineries, approx. 3 per day
Interpretation from Italian as needed, some visits may be in English, others in Italian
Wine guiding and wine tutoring by an expert BKWine guide
(*) See below for more important information on our meals.
Not included:
Travel (flights) to the destination and back from your home location.
You organise your travel to the destination yourself. If you want assistance with organising your flight tickets etc, please contact us. We warmly recommend that you plan
a few extra days
here if you have the time! It is a very interesting place and well worth some "non-wine" tourism too! We can assist you with booking additional hotel nights if you want. For this trip to take place we must have a minimum of 4 participants registered at the "book before" date. Maximum number of travel guests: 8.
Book This Tour
Book before: [this is a sample programme]
Booking is confirmed by paying the booking fee of [sample programme, this varies by trip]. Full payment should be received at the latest [sample programme, usually one month or 60 days, depending on the trip] before the departure date (see our terms and conditions). Details on how to pay will be sent to you when you register.
It is important that your read our travel booking terms and conditions.
We also invite you to read more on why you should travel with BKWine, about customer protection, and about what you can expect from our wine tours in the section below "More on our wine tours".
You book by contacting Britt Karlsson, BKWine:
phone: +33 1 58 88 04 66 or +33 6 80 45 35 70 (+33 is the country code for France)
Skype: "bkwine". Call us on skype.
email: info@bkwine.com, or use the contact form below
"I want to book this tour" or "I want more info."
(*) = required
Important: We automatically send you a copy of this email when you submit it. If you have not received it within a few minutes: 1) check your spam folder, 2) consider resending it, you might have misspelled your email address. Or simply send us a normal email using our address noted just above.
Share this tour programme with your friends
Maybe your friends want to come with you on this wine tour? Let them know about the programme and ask if they'd like to join you. Share the info on social networks or send an email to your friends:
More on our wine tours
Why travel with BKWine?
We are Britt and Per Karlsson. We are specialists in wine and food tours and wine tourism, but also experts in wine in general. We are internationally published wine writers and have written ten award-winning wine books.
No other tour operator has a comparable knowledge and experience of wine, wine regions, wine tourism and gourmet travel.
We have organised hundreds of wine and food tours, and this is what we love to do. We take it very seriously – it is not a sideline or a hobby – and what we want more than anything is to share all these wonderful experiences with you.
All our tours are led and managed by guides who have in-depth wine knowledge, and in many cases we lead the tours ourselves.
Read more on why you should choose BKWine for your wine and food tour.
Thousands of happy customers
Over the years, thousands of wine lovers have travelled with us. Many come back to tour again and again with BKWine to new wine regions. Our record-breaking client has been on more than ten BKWine tours. We are happy and proud to have such faithful customers.
Read more on what travellers have said about our tours.
Awards and Mentions
We're pleased and proud to have received many accolades, including:
"World's Top Wine Tours", Travel+Leisure Magazine, the world's biggest travel magazine
"Best wine tasting holidays", AOL Travel's list of top wine tours
"Recommended Wine Tours", Munskänkarna, the world's biggest wine appreciation association
"World's Best Wine Book for Professionals" as well as "Best Wine Book of the Year", Gourmand International awards, and many other book prizes
Three OIV book awards, International Organisation of Vine and Wine

"Wine Personality of the Year", an honour bestowed on Britt Karlsson by Munskänkarna in 2011, the world's biggest wine appreciation association
Inclusion on the Wine Media Power List, by Wine Business International magazine
About the wine producers and wineries we visit
Our aim is for you to experience some of the very best and most interesting aspects of the wine world, in terms of wine and food.
We put great effort into creating outstanding winery visits, and in this way we are quite different to many wine tour organisers. It is not always the most renowned, internationally known estates that offer the best experiences. Organising a wine tour featuring famous names of the wine world is relatively easy: it is merely a question of making lists and ticking boxes. On those kind of "bucket list" wine tours, you rarely meet the winemaker or the owner. You will simply be one of thousands of visitors they receive each year.
We do things differently. With BKWine Tours, you will meet the people behind the label, often the winemakers and/or the owners. Thanks to them, you will have a unique, truly personal experience and an insight into the wine world that no one else can offer. When you travel with BKWine, you are more like a special guest than a tourist.
We have personal connections and unparalleled knowledge thanks to more than 20 years as wine journalists, with 10 wine books published, and as wine tour organisers with more than 30 years' experience. You can be sure of getting the best wine travel experiences with BKWine Tours.
Read more on the wine producers and wineries we visit.
A true gourmet experience: food and gastronomy
For us, wine and food are intimately linked, and this is a fundamental part of our wine travel philosophy. For this reason, a wine tour with BKWine is always an outstanding culinary experience both for the wine enthusiast and for the gourmet. A BKWine tour is a gastronomic voyage that explores the deep relationship between food and wine.
Read more On Meals: Food and Gastronomy on Our Tours.
Customer Protection,  Financial Travel Guarantee, and Terms and Conditions
You can always feel safe when you book your tour with BKWine. BKWine has a bonded bank guarantee that gives full protection according to EU and Swedish law. BKWine is a Swedish limited company and as such is regulated by strict rules.
Read more on Customer Protection, Financial Travel Guarantee. and our Terms and Conditions.
When you book a tour it is important that you read the terms and conditions. BKWine's booking terms and conditions follow the guidelines developed by the Consumer Protection Agency.
Health, vaccination and allergies
Our tours have no particular health requirements although inevitably we will be walking a certain amount in wine cellars and vineyards. Sensible footwear is a must.
Most of our travel destinations have no particular health guidelines or requirements for vaccinations or medical certificates, but if in doubt, you should always consult a medical professional, vaccination centre or relevant embassy in your country of origin.
We can always accommodate food allergies. However, in order for us to manage such requests you must let us know about any allergies before the tour starts.
Read more in our FAQ and in our Terms and Conditions.
Travel insurance
BKWine does not sell travel insurance. If you want travel insurance, check if your regular home insurance policy includes some kind of travel insurance, or contact your regular insurance company or a travel insurance specialist.
Custom Tours
We also offer custom wine and food tours if you want to travel on different dates, or if you want something different to what we currently offer on our scheduled tours. This tailor-made service can be offered for individuals, companies, professionals, wine tastings clubs etc.
Important information
Our groups are always small. The number of people in the group may vary. The maximum can range from 8 to around 20; check the details in each programme. But our groups are always modest in size. This is important because it guarantees a quality experience and a personal welcome at the wineries we visit.
Read the BKWine Booking Terms and Conditions here. They are important to you!
You are expected to organise your travel independently to the destination for most of our tours, but once you are at the location, we take care of everything.
For more inspiration
Read our wine travel blog. For more, read our online wine magazine the BKWine Magazine with articles from all over the wine world.
And also:
Recommend this trip to a friend using the share buttons below
Newsletter on wine
Subscribe to our free wine and travel newsletter, the BKWine Brief. Each month, it gives you news from the world of wine, restaurant recommendations, tips on our favourite wine producers and much more. It will also keep you updated on forthcoming wine and food tours.