Wine and white truffles in Istria, the Mediterranean Sea's most alluring coastline
— Travel with us to Croatia and be among the first to discover this new-old wine country! With a great culinary tradition, a landscape that makes you think of Tuscany and with exciting wine producers, we promise that this journey through Istria is something extraordinary. The landscape is breathtakingly beautiful, both the dramatic coast and inland, with its pine trees, cypresses and olive trees. The water is crystal clear, there are many small islands, coves and headlands to discover. Istria is a paradise for sunbathers. But at this time of the year it is above all the ground-breaking winemakers and the local gastronomy that entices. This is the Mediterranean at its best.
Program    |    Travel facts    |    Book    |    More on the tour
.
Next wine tour to Istria, Croatia:
This is a sample program, an example. Every wine and food tour that we organise is different and specially adapted for the season and the circumstances. Details in the program, e.g. which producers we visit, will be different each time.
.
Istria is the peninsula at in the north of Croatia that stretches out into the Adriatic Sea. It is close to Italy, both by land and across the water. Not long ago Istria was actually also part of Italy. Almost everyone speaks Italian and food and wine has many similarities to Italian gastronomy.
In Istria vines thrive and wine in Istria has in recent years evolved into something to be reckoned with.
The old traditional ways of making wine are still around but a modern approach, with a great focus on quality, has quickly come onto the scene. This combination of old and new is exciting and you will discover a style of wine that maybe you have not tasted before. And you will encounter "new" grape varieties teran, refosk and malvazija istarska.
But it is not only beautiful nature and good wines that Istria offers. The culinary treasures deserve a journey too. Delicacies from the sea – oysters, scallops, spider crabs and other shellfish not least –will be on the menu on this tour. But also many other traditional food: charcuteries and sausages, pasta, local cheese etc.
Their olive oil and the cured ham is of very high quality and the coveted white truffle, the same one as you can find in Piedmont, is also a local speciality.
Young, ambitious chefs using all the finest ingredients available, combine new ideas with old traditional recipes. Good quality restaurants are plentiful. Our wine tour is also a gourmet tour!
You fly to Zagreb, where we pick you up with bus. From most places it is easy to find flights into Zagreb.
We stay in the beautiful town of Poreč, in the oldest, but recently renovated, hotel in town, only a few yards from the water. Next door is the famous basilica which was built starting in the 6th century (yes, you read that right).
This will be a fantastic journey filled with wine, gastronomy and history.
The tour is led by one of BKWine's wine and travel expert guides.
.
More info
We have written a lot about Istria, Croatia and about wine touring in the region, what to do and what to expect.
Here you can find more about travelling in Croatia wine region.
You can also find more information on the wines from Croatia on BKWine Magazine.
Why go on an food and wine tour to Istria?
Guido Schwengersbauer lives in Istria since many, many years. Today he runs the charming guest house La Parenzana in Buje on the Istrian peninsula. He is a passionate advocate for food and wine from Istria, quite simply the Istrian gastronomy. When we met him in Istria we took the opportunity to ask him why he thinks this is an excellent travel destination and why he loves the Istrian wine and food. Watch the video:
.
---
.
Program — wine tour in Istria, Croatia
This is a sample program, an example. Every wine and food tour that we organise is different and specially adapted for the season and the circumstances. Details in the program, e.g. which producers we visit, will be different each time.
Preliminary programme.

Contact BKWine for more details.
Program overview
Day 1, Wednesday — Arrival in Zagreb
Day 2, Thursday — Northern Istria, olive oil
Day 3, Friday — The hill-top village of Motovun and a white truffle lunch
Day 4, Saturday — South of Poreč, past the fjord and to Rovinj
Day 5, Sunday — Back to Zagreb and home
Wednesday, day 1 — Arrival in Zagreb
You travel independently to the Croatian capital Zagreb. We meet at the airport at 15:00 (3 PM). One suggestion, if you have the time: arrive one or two days earlier and spend these days in Zagreb, which is a very beautiful city.
Our bus is waiting for us at the airport and we begin our journey towards Istria. It will take us three and a half hours and we take this opportunity to talk about what will happen during our trip, about Croatia as a country, the history, the wine and the food.
Early evening we arrive to Poreč and we check in at the 4-star Grand Hotel Palazzo. The hotel has recently re-opened after an extensive renovation. It is the oldest hotel in Poreč, built in 1910, with an exceptional waterfront location. It has an outdoor pool that can be used even in winter, a fine dining restaurant and a spa.
The town of Poreč is a little gem of a town with its Byzantine basilica began in 553, declared as UNESCO world heritage, not to mention the famous waterfront promenade.
We meet in the evening for a welcome dinner with some delicious regional specialities.
Thursday, day 2 — Northern Istria, olive oil
Our bus will pick us up in the morning at the hotel to take us out to the vineyards. We head north, towards the border with Slovenia, which also brings us very close to Italy.
The proximity to Italy means that many of today's winemakers in Istria have trained in Italy. Istria is  a virtually bilingual region and all street signs are in both Croatian and Italian. Everyone here speaks Italian.
We start start the day with a visit to one of the most famous wine producers in Croatia, namely Kozlovič near the village Momjan. Gianfranco and Antonella Kozlovič have 25 hectares, including some very old malvazija, and have built a brand new, modern winery. The couple took over the family vineyard 20 years ago. Gianfranco has been passionate about wine ever since childhood.
For lunch we drive up-hill to the village of Brtonigla that often goes under its Italian name, Verteneglio. Here you can find one of Croatia's most famous restaurants, San Rocco. We enjoy lunch in the elegant Vinoteca San Rocco. We will also taste the restaurant's very own, very delicious olive oil.
After lunch we will make a visit to Franco Cattunar and his family. They produce both wine and, since some time back, also an exclusive olive oil. The wines are made from teran, malvazija, cabernet sauvignon, chardonnay and merlot and the olive varieties grown are istarska bjelica, leccino and pendolino.
Late afternoon we are back at our hotel. The evening is free for your own discoveries in Poreč.
Friday, day 3 — The hill-top village of Motovun and a white truffle lunch
We start the day by going inland, to the village of Motovun, which sits atop a mountain peak. It is one of the top attractions in this beautiful landscape.
We will visit Vina Tomaz in Motovun. The vineyard is managed by a young couple, Klaudio and Daniella Tomaz.
Wine has been grown in the village since long back but it was the Tomaz couple who was the first to have serious ambitions for quality wines. Klaudio's grandfather was long working with them in the background, far up into his 90s, and has been an inspiration for their very good Barbarossa Teran, that we will taste
After the morning visit we travel uphill on a steep road to the Spinovci farm where we will enjoy a lunch prepared by the Tikel family with white truffles.
The white truffle can be found here in Istria. It is of the same kind as the famous one found in Alba and it is obviously a pride of the region. It is from the beginning of November that the truffle is at its best. In addition to an exclusive truffle-filled yet rustic lunch paired with the family's own wines we can enjoy a magnificent view from the dining room.
Late afternoon we are back at our hotel. The evening is free to stretch your legs in Poreč and to find someone nice restaurant.
Saturday, day 4 — South of Poreč, past the fjord and to Rovinj
Today we're off southwards and a bit inland. But we pass a remarkable fjord, almost like in Norway, that they are extremely proud.
We arrive at the Krunčići village and the wine producer Ivica Matošević. For Ivica it all started as a hobby in the mid-1990s and now he is one of the most respected winemakers in Croatia. He has won several awards for his wines. He is known both for his chardonnay that is made in crisp Chablis-style and for his malvazija.
We have lunch at the San Tommaso winery, not far from the lovely town of Rovinj, where Janja Debeljuh, a trained oenologist, has prepared something very good to us for lunch, perhaps first the traditional wine soup (!) followed by her spicy homemade sausages that she prepares over an open fire.
During lunch we taste her own wines – always an interesting exercise in food and wine pairing – and maybe we finish with a restoring Istrian grappa.
After lunch we head to Vina Radovan in Višnjan. Franko Radovan is a small producer with around 4.5 hectares of vineyards. He is a very talented winemaker, making both white and red wines. He has won many awards for his malvazija, chardonnay, cabernet sauvignon and teran.
Late afternoon we are back at our hotel.
A little later in the evening we meet for an aperitif to discuss our impressions of this exciting wine region. Then we take our seats to enjoy our last evening and dinner together. After dinner maybe it's time for a walk and for one last view of Poreč's winding alleys.
Sunday, day 5 — Going home
After breakfast we load our luggage and ourselves in our bus and head back to the airport in Zagreb where we arrive no later than 12:00 (12 noon).
The program may be subject to minor modifications.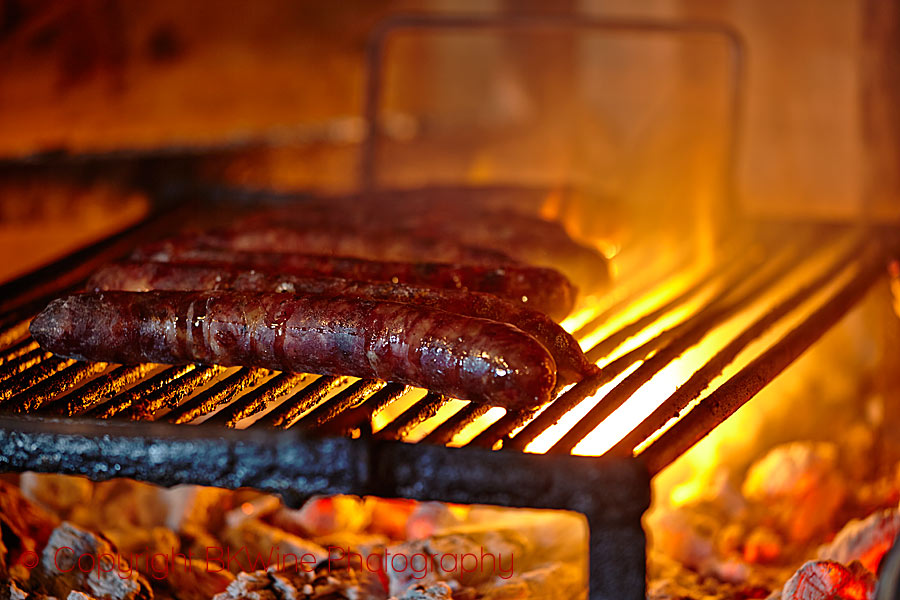 ---
.
Tour Details — Istria, Croatia wine tour
Dates: This is a sample program. Look in the menu "Our Tours > Scheduled Tours" to check what scheduled tours are currently on the program or contact us to discuss a custom made private wine tour.
Price per person: This is a sample program. Look in the menu "Our Tours > Scheduled Tours" to check what scheduled tours are currently on the program or contact us to discuss a custom made private wine tour.
Included in the price:
4 hotel nights, double occupancy, including breakfast, at four-star Grand Hotel Palazzo in Poreč
Meals as described in the program above (*):

2 gastronomic multi-course lunches, with several wines, at a wine producers' or local restaurant
1 truffles lunch, with several different wines, at a wine producer's or a local restaurant
2 gastronomic multi-course dinners with local specialities, including tasting of several wines

Start and end point: Zagreb
Bus transport during the whole trip
All vineyard and winery visits
Private, high quality tastings at wineries, approx. 2-3 per day
The visits will be in English, with the possible exception being translated from Italian
Wine guiding and wine tutoring by an expert BKWine guide
(*) See below for more important information on our meals.
Not included:
Travel (flights) to the destination and back from your home location.
You organise your travel to Zagreb yourself. If you want assistance with organising your flight tickets etc, please contact us.
We warmly recommend that you plan a few extra days here if you have the time! It is a very interesting place and well worth some "non-wine" tourism too! We can assist you with booking additional hotel nights if you want.
For this trip to take place we must have a minimum of 4 participants registered at the "book before" date. Maximum number of travel guests: 8.
Book This Tour
Book before: [this is a sample programme]
Booking is confirmed by paying the booking fee of [sample programme, this varies by trip]. Full payment should be received at the latest [sample programme, usually one month or 60 days, depending on the trip] before the departure date (see our terms and conditions). Details on how to pay will be sent to you when you register.
It is important that you read our travel booking terms and conditions.
We also invite you to read more on why you should travel with BKWine, about customer protection, and about what you can expect from our wine tours in the section below "More on our wine tours".
You book by contacting Britt Karlsson, BKWine:
phone: +33 1 58 88 04 66 or +33 6 80 45 35 70 (+33 is the country code for France)
Skype: "bkwine". Call us on skype.
email: info@bkwine.com, or use the contact form below
"I want to book this tour" or "I want more info"
* = required
Important: We automatically send you a copy of this email when you submit it. If you have not received it within a few minutes: 1) check your spam folder, 2) consider resending it, you might have misspelled your email address. Or simply send us a normal email using our address noted just above.
Share this tour programme with your friends
Maybe your friends want to come with you on this wine tour? Let them know about the programme and ask if they'd like to join you. Share the info on social networks or send an email to your friends:
More on our wine tours
Why travel with BKWine?
We are Britt and Per Karlsson. We are specialists in wine and food tours and wine tourism, but also experts in wine in general. We are internationally published wine writers and have written ten award-winning wine books.
No other tour operator has a comparable knowledge and experience of wine, wine regions, wine tourism and gourmet travel.
We have organised hundreds of wine and food tours, and this is what we love to do. We take it very seriously – it is not a sideline or a hobby – and what we want more than anything is to share all these wonderful experiences with you.
All our tours are led and managed by guides who have in-depth wine knowledge, and in many cases we lead the tours ourselves.
Read more on why you should choose BKWine for your wine and food tour.
Thousands of happy customers
Over the years, thousands of wine lovers have travelled with us. Many come back to tour again and again with BKWine to new wine regions. Our record-breaking client has been on more than ten BKWine tours. We are happy and proud to have such faithful customers.
Read more on what travellers have said about our tours.
Awards and Mentions
We're pleased and proud to have received many accolades, including:
"World's Top Wine Tours", Travel+Leisure Magazine, the world's biggest travel magazine
"Best wine tasting holidays", AOL Travel's list of top wine tours
"Recommended Wine Tours", Munskänkarna, the world's biggest wine appreciation association
"World's Best Wine Book for Professionals" as well as "Best Wine Book of the Year", Gourmand International awards, and many other book prizes
Three OIV book awards, International Organisation of Vine and Wine

"Wine Personality of the Year", an honour bestowed on Britt Karlsson by Munskänkarna in 2011, the world's biggest wine appreciation association
Inclusion on the Wine Media Power List, by Wine Business International magazine
About the wine producers and wineries we visit
Our aim is for you to experience some of the very best and most interesting aspects of the wine world, in terms of wine and food.
We put great effort into creating outstanding winery visits, and in this way we are quite different to many wine tour organisers. It is not always the most renowned, internationally known estates that offer the best experiences. Organising a wine tour featuring famous names of the wine world is relatively easy: it is merely a question of making lists and ticking boxes. On those kind of "bucket list" wine tours, you rarely meet the winemaker or the owner. You will simply be one of thousands of visitors they receive each year.
We do things differently. With BKWine Tours, you will meet the people behind the label, often the winemakers and/or the owners. Thanks to them, you will have a unique, truly personal experience and an insight into the wine world that no one else can offer. When you travel with BKWine, you are more like a special guest than a tourist.
We have personal connections and unparalleled knowledge thanks to more than 20 years as wine journalists, with 10 wine books published, and as wine tour organisers with more than 30 years' experience. You can be sure of getting the best wine travel experiences with BKWine Tours.
Read more on the wine producers and wineries we visit.
A true gourmet experience: food and gastronomy
For us, wine and food are intimately linked, and this is a fundamental part of our wine travel philosophy. For this reason, a wine tour with BKWine is always an outstanding culinary experience both for the wine enthusiast and for the gourmet. A BKWine tour is a gastronomic voyage that explores the deep relationship between food and wine.
Read more On Meals: Food and Gastronomy on Our Tours.
Customer Protection,  Financial Travel Guarantee, and Terms and Conditions
You can always feel safe when you book your tour with BKWine. BKWine has a bonded bank guarantee that gives full protection according to EU and Swedish law. BKWine is a Swedish limited company and as such is regulated by strict rules.
Read more on Customer Protection, Financial Travel Guarantee. and our Terms and Conditions.
When you book a tour it is important that you read the terms and conditions. BKWine's booking terms and conditions follow the guidelines developed by the Consumer Protection Agency.
Health, vaccination and allergies
Our tours have no particular health requirements although inevitably we will be walking a certain amount in wine cellars and vineyards. Sensible footwear is a must.
Most of our travel destinations have no particular health guidelines or requirements for vaccinations or medical certificates, but if in doubt, you should always consult a medical professional, vaccination centre or relevant embassy in your country of origin.
We can always accommodate food allergies. However, in order for us to manage such requests you must let us know about any allergies before the tour starts.
Read more in our FAQ and in our Terms and Conditions.
Travel insurance
BKWine does not sell travel insurance. If you want travel insurance, check if your regular home insurance policy includes some kind of travel insurance, or contact your regular insurance company or a travel insurance specialist.
Custom Tours
We also offer custom wine and food tours if you want to travel on different dates, or if you want something different to what we currently offer on our scheduled tours. This tailor-made service can be offered for individuals, companies, professionals, wine tastings clubs etc.
Important information
Our groups are always small. The number of people in the group may vary. The maximum can range from 8 to around 20; check the details in each programme. But our groups are always modest in size. This is important because it guarantees a quality experience and a personal welcome at the wineries we visit.
Read the BKWine Booking Terms and Conditions here. They are important to you!
You are expected to organise your travel independently to the destination for most of our tours, but once you are at the location, we take care of everything.
For more inspiration
Read our wine travel blog. For more, read our online wine magazine the BKWine Magazine with articles from all over the wine world.
And also:
Recommend this trip to a friend using the share buttons below
Newsletter on wine
Subscribe to our free wine and travel newsletter, the BKWine Brief. Each month, it gives you news from the world of wine, restaurant recommendations, tips on our favourite wine producers and much more. It will also keep you updated on forthcoming wine and food tours.