South Africa has not only fine wines and excellent food; there are also hotels with a charm like in few other places. On our next wine and gourmet tour to South Africa (March 2016), you will get the chance to stay in a rather unique hotel, The Royal Riebeek Hotel in the town named Riebeek.
Why it's actually called Royal I do not know. Maybe it's because you get a royally welcome, or perhaps some royalty lived there long ago. Most likely though is that it got its name in honour of the royalty that it was subject to several hundred years ago when it was founded.
(The image below is not the Royal Riebeek but an old Cape Dutch style house.)
The Royal Riebeek Hotel is in the Western Cape. It is perhaps South Africa's oldest hotels. It was founded even before the legendary Mount Nelson in Cape Town. The hotel is perhaps better known for some other things, actually.
It has South Africa's longest stoep, that is South Africa's longest porch. It is an impressive colonial porch that extends along the entire front of the hotel. It has even mentioned by the South African government as an attraction. It also has a beautiful 150 years old bar which is in itself is a historical treasure. And, of course, do not forget the daily G&T-Gin and Tonic Happy Hour that you can enjoy on the long stoep.
(The image below is not of the Royal Riebeek's stoep, which is much longer and more impressive.)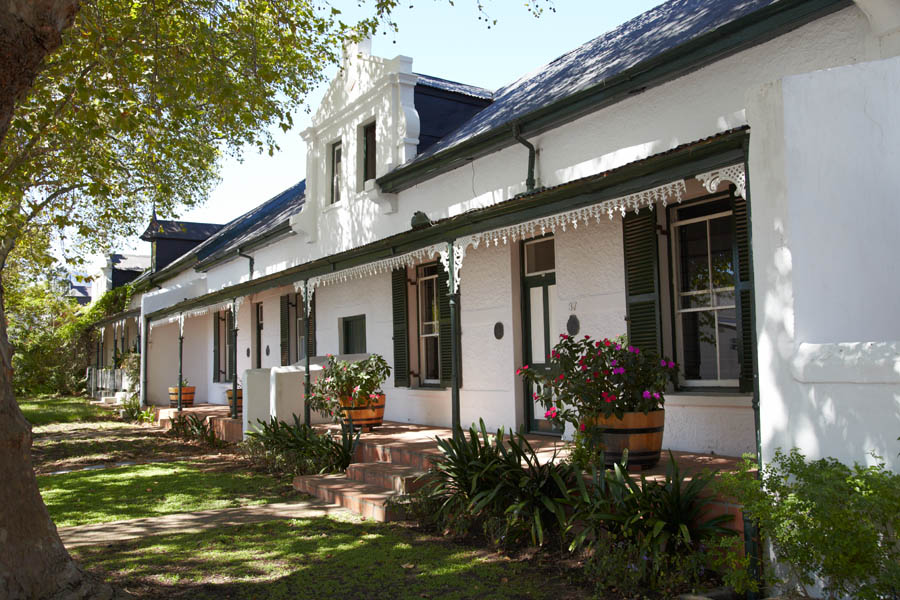 On this porch sat maybe once one of South Africa's most famous statesmen, Jan Smuts, who lived in Riebeek in his youth. He later became prime minister for many years and one of the persons who wrote the document that was the basis for the United Nations, the United Nations Charter.
But most importantly, The Royal Riebeek Hotel is ideally located for visiting the vineyards in the Swartland!
Here is the Royal Riebeek's own stoep:
Swartland is the newcomer among the South African winelands. In recent years, the Swartland producers have received much attention for their exquisite wines. Previously it was a region where the grapes were mostly sold to others, but 10-20 years ago a few pioneers began to invest in their own facilities to make quality wine and sell it under their own names.
Today Swartland is considered to be one of the most exciting wine regions, a district where they produce authentic and characterful wines. They have also invested a lot in making wines from grapes not so common in other areas, also something that many wine lovers are looking for today.
We will have ample opportunity to try these exciting wines during the days that we are here.
Also the other hotels where we will be staying during the wine tour to South Africa each has its own charm. In Cape Town we stay in a newly renovated boutique hotel right in the centre. In the wine village of Franschhoek you will be greeted in a so-called guesthouse, almost like a private house rather than a hotel. Rooms are located in five separate buildings in a garden with pool.
And in the wine capital Stellenbosch you will stay in another landmark hotel, the Oude Werf Hotel. The name actually means "the old cemetery" and this hotel also (!) claims to be South Africa's oldest. What really is the oldest, the Royal Riebeek or Oude Werf, we will have to sort that out together when we are there!
Even if one tends to put South Africa as a wine country in the category "the New World", it is a country with a long history and, not least, a long wine history. A few years ago it celebrated the 350th anniversary of the first vineyards!
There is much to discover in South Africa, fine wines, great food, and fascinating history. Take a look at our brand new wine and gourmet tour program to South Africa. It contains much of the very best that South Africa has to offer. We look forward to meeting you in Cape Town! Book now!