Wine touring in Burgundy is an experience full of food and wine, beauty and history.
Burgundy…  the word evokes a very special wine region and exceptional wines. It makes me think of winding roads and gently rolling hills, vineyards stretching as far as the eye can see. Small villages, unique wines and superb French gastronomy.
When I started tasting and drinking wine, Burgundy was one of the regions that was a must. At that time, New World wines were hardly even on the map. Times have changed, but Burgundy is still very much a must, with its own distinct character that you will only discover when you go there. Relatively small, to my mind it epitomises everything a French wine region should be.
A string of pearls
Nowhere else will you find so many small archetypically French countryside villages. They lie like a string of pearls along the RN74 road in a gently rolling landscape of vineyards and forests: Gevrey-Chambertin, Fixin, Pommard, Meursault, Vosne-Romanée, Puligny-Montrachet and many more.
Even the main town, Beaune, has a distinctly small-town feel to it; from the main square in the centre it is only a ten-minute walk out to the vineyards.  At the same time, Beaune has a certain international feel and the fame of its wines attracts visitors from all over the world, so in peak tourist season it makes sense to book your evening restaurant in advance.
Vineyards stretch all around. There are roughly 10,000 vines planted per hectare; multiply this figure by the surface area under vine and you will have a stunning number of vine plants (pieds de vigne), each one of them lovingly cared for by a winegrower.
The home of terroir
If you have ever wondered what terroir means and what difference it might make to a wine, there is no better place to go than Burgundy. Most growers here make not just two or three different wines, but rather a dozen or even as many as 20 or 30 cuvées, driven by a desire to  allow every patch of land "express itself" in the bottle.
In Burgundy it is not unusual to taste two wines made in the same way, by the same producer, with the only difference being that one was made from vines planted "to the left of the footpath" and the other to the right. Can such a small distance really make a difference? Absolutely.
But you have to be there, see it and taste it, to believe it.
Growers and négociants
There are two very different faces of winemaking in Burgundy, namely the négociants, and the family wineries. A few decades ago, independent growers were far and few between; around 80% of all wines were made by négociants, ie. wine merchants who bought grapes (or ready-made wine) from small growers which they then bottled and sold under their own name (think Bouchard, Drouhin, Patriarche, Jadot, Chanson, Reine Pédauque, Champy, Faiveley etc). The wines could be (and still are) of good quality but were inevitably less individual.
Today, two-thirds of the wine in the Côte d'Or come from independent wineries which are often family-owned. This has changed the Burgundian wine landscape dramatically.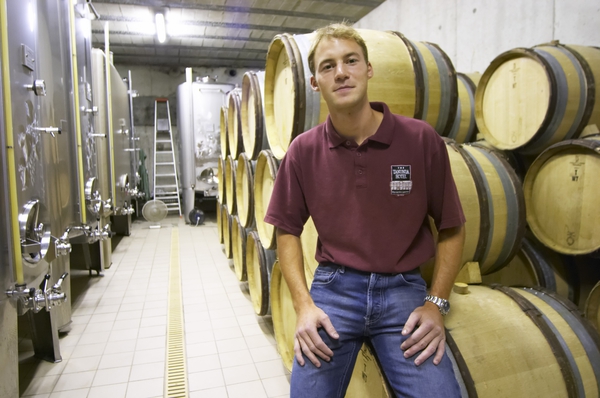 For the wine lover, this is both a blessing and a challenge. There are many more wine producers to choose from and much more variety available. On the other hand, it is more difficult to know where to go to find the really good wines and the outstanding producers. Indeed, the better producers are often small structures who lack the necessary marketing budget to make themselves known on the international stage.
For wine lovers, it has become increasingly important to get advice from someone who is familiar with the region. If you do, you are in for some very pleasant surprises; conversely, if you only visit the better-known names, you will miss out on much of the excitement.
Not just the famous names
Some of the world's most expensive and exclusive wines can be found in Burgundy. There are grand crus that most people can only dream of drinking, with eye-watering price points. To taste some of these wines in situ, perhaps even with people who made them, is a truly unique experience.
But don't be dazzled by all the famous names, and above all, don't be fooled into believing that a Burgundy has to be a grand cru to be worth drinking, or that is has to be expensive to be outstanding.
There are many excellent winemakers running small family wineries who have not (yet) achieved world fame and the subsequent increase in prices. And surely part of the joy of travelling in wine country is discovering those smaller, lesser-known but top quality producers that you can tell your friends about when you get back home?
You just have to know where to go and who to visit (one more reason why you should go to Burgundy with BKWine.)
Ancient history around every corner
With the generational shift that has taken place, many of Burgundy's wines are decidedly contemporary, but the region and its wines are also steeped in history. When you visit a domaine, you may well be invited to go down into the cellar where you'll see stone vaults that are many hundreds of years old and still filled with wine barrels.
Or take the town of Beaune as an example: built in the 15th century, the impressive Hospices de Beaune buildings were indeed used as a hospital up until the 20th century, and they certainly deserve a place on the list of UNESCO World Heritage Sites.
Indeed, Beaune and many other Burgundian villages have a certain medieval look and feel (cars excepted, obviously) which you'll appreciate if you take an evening stroll before dinner.
Burgundian gastronomy
Burgundy is sometimes referred to as the belly of France, thanks to its gastronomy. In fact, traditional Burgundy fare is very much the cuisine of the countryside cuisine, which is exactly what you will experience in the traditional restaurants of this region. There is a wide range too, from humble bistro to three-star gourmet dining destinations.
Many Burgundian dishes are famous worldwide: think coq au vin (chicken in a red wine sauce), boeuf bourguignon (beef cooked in red wine), oeuf en meurette (poached eggs in a red wine sauce) and escargots (yes, snails).
A tAnd of course, we must not forget the cheese. If it is one thing that Burgundy really excels at in culinary terms, more than any other French wine region, it's cheese (and some cheeses even have their own appellations, just like wines). Made in small artisan dairies, such cheeses are not often found outside of the region, so it's important to sample them while you're here and make a note of their (sometimes rather unusual) names: l'ami du chambertin (Chambertin's friend), la pierre qui vire (the stone that turns), trou du cru (a bit of a tongue-twister), along with the better-known epoisses and langres…. and so many more.
Burgundy wines are delightful matches for such local produce, but allow us to make a couple of suggestions. Firstly, be sure to try white wine as well as red – it is often a better match – and secondly, don't serve the oldest, most delicate wine with these cheeses as they are often strong in flavour (choose a younger wine with more fruit).
And finally, to end an excellent dinner, finish with a fiery marc de Bourgogne, the local answer to Italian grappa…
There is only one thing to do: go to Burgundy
There is only one way to really experience the beauty of the landscape, the breadth and depth of all the amazing wines, and the exquisite cuisine. It is to come to Burgundy and experience it live, on-site! Preferably on a wine tour to Burgundy with BKWine Tours.
So there you have it: to really appreciate the beauty of the landscape, the breadth and depth of the wines, and the quality of the cuisine, come to Burgundy and experience it first-hand. Preferably on a wine tour to Burgundy with BKWine Tours, of course. [CHECK LINK HERE]
Take a look at our sample programme for a wine and food tour to Burgundy in France . Find the programme under the menu Our Tours > Popular Destinations. You can check if we have a tour on our schedule in the menu Our Tours > Scheduled Tours, or contact us to discuss a custom wine tour. 
Travel to the world's wine countries with the people who know wine and the local culture, with those who can give you the best experience. Travel with those who can take you to the best producers and the most beautiful spots, where you get to taste the most exciting wines, personally meet the winemakers, and enjoy the true local gastronomy.
Travel with BKWine Tours.