Wine touring in Burgundy is an experience filled with wine, food, beauty and history
Burgundy… Say it. Feel it. Taste it. The word evokes a very special wine country and a very special wine. It makes me think of gently rolling hills. Vineyards all the way to the horizon. Winding roads. Small villages. Unique wines and superb French gastronomy.
When I started tasting and drinking wine, Burgundy was one of the regions that were a must. At that time "The New World" wines were hardly even on the map. It still is a must, although times have changed a lot since then. Burgundy is a region that has its own very special character that you will only discover when you go there.
It is a small region, at least the heart of the region, the Côte d'Or. It is like a concentration of all that you think a wine region should be.
A string of pearls
Nowhere else will you find so many small archetypically French country-side villages. They lie like a string of pearls along the N74 road in a gently rolling landscape with vineyards and forests: Gevrey-Chambertin, Fixin, Pommard, Meursault, Vosne-Romanée, Puligny-Montrachet and many more.
Even the main town, Beaune, has a distinctly small-town feel to it. It is only a ten-minute walk from the main square in the centre and then you are out in the vineyards. At the same time, it has an international touch to it. The fame of its wines brings people from all over the world here. So, in season, you are well-advised to book your evening restaurant in advance.
You have vineyards everywhere. There must be millions of vines here. They plant 10,000 vines per hectare in the vineyards. Multiply it with the acreage and you will have a stunning number of pieds de vigne, vines. And each one of them is lovingly taken care of by a winegrower.
The home of terroir?
If you have ever wondered what terroir means and what difference it might make for the wine then there is no better place to go than to Burgundy. Most winemakers here make not two or three different wines but rather a dozen or even 20 or 30 different wines. That's because they want to let every small patch of land "express itself" in the bottle.
Often when in Burgundy you get to taste two wines from the same winemaker with the only difference being that one was made "to the left of the footpath" and the other to the right. Can it make a difference? A few yards apart? Absolutely! It can be two very different wines although they are made in exactly the same way and the distance between the vineyards is less than a stone's throw.
You have to be there, see it and taste it, to believe it.
Growers and négociants
There are two very different sides of winemaking in Burgundy: the négociant and the family wineries. A few decades ago the independent growers were few. Some four-fifths of all wines were made by négociant companies at that time, wine merchants that bought grapes or wines from small winegrowers and winemakers and then bottled under their own name. Names like Bouchard, Drouhin, Patriarche, Jadot, Chanson, Reine Pédauque, Champy, Faiveley etc. The wines could be (and still are) of good quality but were inevitably less individual.
Today, two-thirds of the wine in the Côte d'Or come from independent wineries, often family-owned. This has changed the wine landscape dramatically in Burgundy.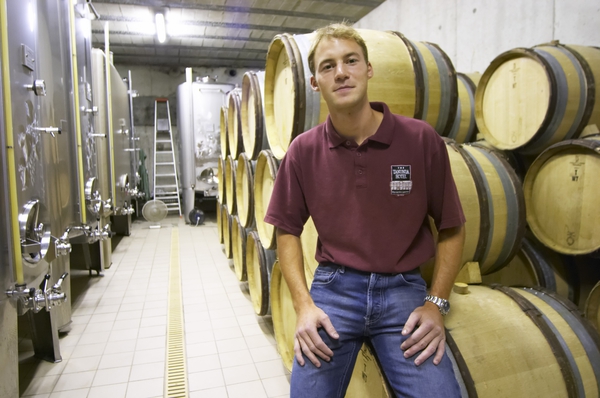 For the wine lover, this is both a blessing and a challenge. There are many more wine producers to choose from and much more variety in the choice. On the other hand, it is more difficult today to know where to go to find the good wines, to find the excellent wine producer. The best producers are often small and do not have a big marketing budget to make themselves known on the international market.
For the wine lover, it means that it is even more important to get good advice from someone who knows, someone who is familiar with the region. But if you do, you are in for some very pleasant surprises. (And if you only go to the big, famous, and well-known names you will miss out on much of the excitement…)
Not only famous names
In Burgundy, you can find some France's – and the world's – most expensive and exclusive wines. There are grand crus that most people can only dream of, that cost a fortune per bottle. It is a unique experience to taste some of these wines, at the wineries, perhaps even with the winemakers.
But you should not be too dazed by all the famous names. And above all, you should not be fooled into believing that a Burgundy has to be a grand cru to be worth drinking, and has to be expensive to be outstanding.
There are plenty of excellent, outstanding (!), winemakers that run small family wineries but that have not (yet) achieved the world fame that makes the price shoot up. Isn't one of the exciting things with travelling in the wine regions to discover some of the small, not so well-known but excellent producers that you can tell your friends about when back home so that they can discover them too?
You just have to know where to go and who to visit. (One more good reason why you should go to Burgundy with BKWine.)
Ancient history around every corner
With the generation shift that has taken place in winemaking in Burgundy, many of the wines are decidedly contemporary, but both the wines and the whole region are also steeped in ancient history.
In Beaune you have the Hospices de Beaune, also called Hôtel Dieu. It was built in the 15th century and functioned as a hospital up until the 20th century… Why this is not yet on the UNESCO list of World Heritage Sites is a mystery to me.
When you visit a winery you should not be surprised if you are invited down into the wine cellar with stone vaults that are many hundred years old and are still filled with wine barrels.
Beaune and all the other villages could be used as-is in a film set in medieval times (if you remove the cars). It gives a special feeling to that evening walk before dinner.
Burgundian gastronomy
Burgundy is sometimes referred to as the belly of France, thanks to its gastronomy. In fact, the traditional cuisine in Burgundy is very much a country-side cuisine. And that is what you will discover when you go to the traditional restaurants in Burgundy. You will find a wide range of restaurants; everything from the corner bistro to some of France's top three-star restaurants.
Many of the Burgundian dishes have achieved world fame: coq au vin (stewed chicken, or rooster, in a wine sauce), boeuf bourguignon (beef stew with a wine sauce), oeuf en meurette (poached eggs in a red wine sauce), escargots (the famous snails), and many more.
One thing you must not miss is the cheeses. If it is one thing that Burgundy excels in more than any other wine region in France it is the cheese. Some of them have their own appellations, just like the wines.
The cheeses are often produced in small artisanal dairies and are difficult to find in outside of Burgundy. So you must try them when you are here, even if they sometimes have very strange names: l'ami du chambertin (Chambertin's friend), soumaintrain, la pierre qui vire (the stone that turns), trou du cru (be careful with that name! Say it wrong and people will look strangely at you…), the two more well-known epoisses and langres, and many, many more.
The cheese goes excellently with Burgundy wines of course. But let me make two suggestions: First: try a white wine with the cheese sometimes. It is excellent! And secondly: don't serve the oldest and most delicate wine with the cheese. Instead, choose a younger wine with more fruit. The cheeses are often strong in flavour and an old, mature wine may have trouble keeping up with it.
After dinner, you can always finish with a fiery marc de Bourgogne, the local answer to the Italians' grappa.
There is only one thing to do: go to Burgundy
There is only one way to really experience the beauty of the landscape, the breadth and depth of all the amazing wines, and the exquisite cuisine. It is to come to Burgundy and experience it live, on-site! Preferably on a wine tour to Burgundy with BKWine Tours.
Take a look at our sample program to see how a wine and food tour to Burgundy in France can look. You can find the program under the menu Our Tours > Popular Destinations. You can check if we have one on our schedule in the menu Our Tours > Scheduled Tours, or you can contact us to discuss a custom wine tour.
Travel to the world's wine countries with the people who know wine and the local culture, with those who can give you the best experience. Travel with those who can take you to the best producers and the most beautiful spots. Where you get to taste the most exciting wines, personally meet the winemakers, and enjoy the true local gastronomy.
Travel with BKWine Tours!