"Everything was better than expected"
Veneto, the wine region in north-eastern Italy, around Verona, is probably one of the most varied wine countries you can imagine. Today it is perhaps most famous for its powerful red amarone wines.
But here they make virtually every imaginable wine type. Classic red wines in Valpolicella, which is also home to amarone. Fresh whites as well as seriously ambitious dry white wines in, for example, Soave and Gambellara. Delicious and intense sweet wines of different types, vin santo, recioto and more. And if you look just a few tens of kilometres further east, you will find Prosecco, the world's best-selling sparkling wine.
So, here in Veneto, there is a lot to discover.
In the midst of everything, and the obvious starting point for discoveries in the vineyards, Verona is a wonderful city. Here, every year, they perform the great Italian operas in the two-thousand-year-old Roman arena. There are luxurious shopping streets in the city centre. Northern Italy is a rich region. And there are plenty of narrow alleys where you can find cafés, wine bars and charming and genuine Italian restaurants.
As I mentioned, there's a lot to discover here!

Read below what some of our customers have said about our wine tour and explorations in the wine regions around Verona, with amarone, Valpolicella and Soave.
On the wine tour in Veneto, Valpolicella, amarone, Soave:
Many thanks for some amazing days in Veneto with wonderful tastings at well-chosen vineyards, big and small! And the enjoyable lunches still linger on the taste buds. Verona was an experience in itself, and we were grateful to have a few extra days there, after the rewarding program in the surrounding wine regions. And of course, we want to thank our talented and charming guide Åsa.

— L & M and G & C (who have been on at least four tours with BKWine)
On the wine tour in Veneto, Valpolicella, amarone, Soave:
Time is passing so fast, but now I finally want to tell you how outstanding we thought our wine tour to Veneto was. The program was perfect, with three very interesting and excellent wineries every day. Amazing wine growers with an inner power and conviction, and just as engaging and interesting wines that they made. A very positive aspect was all these strong women, who do not always work in a tailwind.

We also learned so much about biodynamic cultivation, different ways of trellising and pruning. As a matter of fact, I am very interested in botany, so I found it very interesting. Every summer we take the car to France and all the exciting vineyards there, so we did not really know very much about all these different Italian grapes.

Must also say that they all the meals were delicious and everyone was generous with their wine, their homes and their time.

Åsa was a very knowledgeable and talented guide, with great knowledge of human nature. We were, of course, a small group of only eight people, but everybody is a different personality and she really paid full attention to everyone. She is a gem!

The hotel was also very good, perfect location, and we were lucky and got a perfect room with a rooftop terrace on the top floor. A view over all of Verona, so beautiful! You can tell that everything was so good and we will be happy to come back on more tours, we who usually always travel on our own. Thank you, Britt!

— Kerstin & Stefan S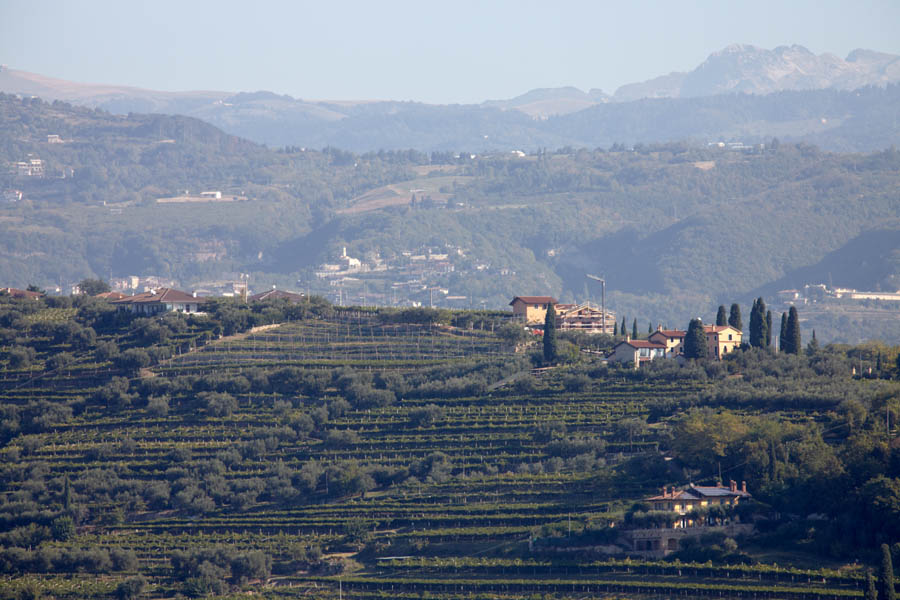 On the wine tour in Veneto, Valpolicella, amarone, Soave:
Awesome trip with an incredibly good guide, Åsa is a star and has a wealth of knowledge about wine. Extremely enjoyable and interesting, with mainly, for the general public, fairly unknown wine producers. Allegrini was probably the only well-known winery.

The lunch with the ladies at the La Cappuccina winery was unforgettable, outstanding cuisine, without a doubt the best and the most fun meal I have ever experienced on a wine tour (despite having enjoyed 10-12 winery lunches all over the world). Also, big plusses to Musella, Menti, Villa Erbici and Massimago. As we speak, here and now, we announce our interest in Tuscany next spring.

— Kim & Marianne P
On the wine tour in Veneto, Valpolicella, amarone, Soave:
Thank you very much for a very enjoyable tour in the Veneto district; we learned a lot. It was our first wine tours and there will definitely be more tours for us in the future. Very well organized! Good choice of wine producers – big and small. Great lunches – a special thank you for ensuring that there was also gluten-free food! We will meet again!

— Veronica & Yngve H
On the wine tour in Veneto, Valpolicella, amarone, Soave:
Thank you very much for a wonderful trip. Åsa is a "treasure". She fit perfectly with our group and she was a skilled, professional guide, with a lot of knowledge and great calm. We have experienced a tour that we will never forget and everything was better than what we expected.

We were happy and tired when we came back home and that's a good sign. The arrangement was 100%. Wineries, hotels, transportation, and everything worked. We will save up for new tours and no one has any doubts as to who we should choose as a supplier.

— Anne B
On the wine tour in Veneto, Valpolicella, amarone, Soave:
I have just welcomed our wine travellers back home. Everyone was really happy and satisfied! Some were lyrical, the tour was so good. Åsa has done a wonderful job again, the hotel was excellent, the food fantastic. Now it's only a matter of getting rid of the extra kilos we have put on, as one of us said.

— Eva E
Here you can read even more reviews about what our travellers think about our wine tours.
If you are interested in discovering the Veneto district with amarone, Valpolicella, Soave, the wine regions, the exciting wines, the amazingly good food, then you should come on a wine tour to Veneto with amarone, Valpolicella, Soave with us at BKWine!