And the 3 Different Wine Tourists
"The BKWine Model of Wine Tourism and Wine Tourists"
Wine Tourism — Why & How? Examples from wineries around the world, presented by Per Karlsson, BKWine AB, BKWine Tours.
This is an overview of a presentation prepared for the Italian wine tourism conference Citta del Vino that took place in Torgiano in Umbria. 
Umbria is the Italian region that is just south-east of Tuscany. It is sometimes described as "Tuscany without the millions of tourists", which is not a bad description. It has beautiful country side as well as ancient towns and villages, Torgiano, Assisi, where the Franciscan order was founded, and Perugia famous for its 'kisses' (a confectionery I'm afraid) just to mention a few.
Montefalco should be well-known to all wine lovers, as the source of the wine called Sagrantino di Montefalco as well as Rosso di Montefalco . But there are many other wines to discover here too: Orvieto, Torgiano and others.
All of it is certainly worth a wine tour trip!
Here is the full presentation on wine tourism:
And the text:
---
First a few words about me and why I might be a little qualified to talk about wine tourism to you.
I am co-founder of BKWine AB together with Britt Karlsson. BKWine has basically two different activities.
On one side BKWine is one of the world's leading specialist wine tour operators. We organise some 30 wine tours each year, across the world. Few if any wine travel company can claim similar breadth and depth of experience and knowledge of wine and wine travel. We organise wine tours to many different countries around the world – France, Italy, Spain, Portugal, Austria, Chile, Argentina, South Africa, Croatia, Germany… – and the way wine tourism is approached varies vastly.
The other main activity of BKWine is wine journalism and writing. We have over the years written for many publications, both in Scandinavia (where we come from) and internationally. Today we primarily write for BKWine Magazine, our own online publication, possibly the most visited editorial wine site in Scandinavia. It is bilingual so it is also much read in its English version across the world. We also write regularly for Forbes.com in the USA.
So I spend a lot of time travelling in wine regions. I visit some 200 wineries in a normal year. Some years much more.
I have therefore a consumer perspective on wine tourism, not a wine producer perspective (nor government perspective). But I also have a business and marketing perspective on the wine industry and the wine travel business. In "a previous life" I was vice president of marketing for a rather large company in the technology industry.
I am also very much involved in online communications and social media, since much of our own marketing and publishing is done online. So the other discussions at this conference on these issues will be of great interest to me too.
As I mentioned, we have written several books on wine, nine to date and a tenth one coming soon, on subjects such as the Languedoc, Growing & Making Wine, Organic, Biodynamic, Natural Wine, French Wine, Tuscany, Piemonte, Bordeaux, Burgundy, Champagne.
Wine tourism is obviously important for the wine "industry", one might say that this is a given on this conference so no point in going into any of these numbers, given as examples. However, one thing I would like to underline is this: wine tourism is not only, perhaps not even mainly, about selling wine to the visitors. It is a long term project about building a brand and establishing a relationship with customers.
Wine tourism is the "supply side" of this subject. It can be useful to structure our thinking a bit around wine tourism. You can divide wine tourism into 4 different categories. So let's look at those:
"Open Door" wine tourism
Receiving people for wine tastings and cellar visits. Sometimes people also talk about "cellar door" wine tourism, but that can involve many different things that goes far beyond what I mean with it here.
"Edutainment" (education + entertainment)
This is something more, something a little bit more complex and organised than "just a visit". For example: blending session, harvesting workshop, vineyard nature walks, cooking class….
"Disneyland" Wine Tourism
It is important to underline that I use this label without any intention of giving it a negative connotation! I have simply not found a good word for it. This is Big Budget projects, often with mixed contents also including "general" tourism (not directly wine related). For example restaurant, hotel, museum…
"Eventification"
This refers to one-time events focussed on wine. For example: wine festivals, fête du vin, gastro-walks, village harvest festival…
So let's look at some examples, case studies, from these different categories.
Important: What I will focus on are the smaller initiatives that are in my opinion more interesting. And that are also perhaps more challenging for the wine producers to put in place. Many smaller wineries fear that any wine tourism project will require large investments. That is not the case.
Open Door Wine Tourism
Here's a list of a few good examples:
Clos Saint Louis (Burgundy)
Château Bernateau (Bordeaux)
Glenwood Vineyards (South Africa)

simple & straight forward

Château Pichon Baron & Ch Phélan Ségur (Bordeaux)
Campo Viejo (Rioja)
And many, many more…
I will go a bit more into detail on only a few of these.
Clos Saint Louis
"This is my life as a winegrower and winemaker. Welcome to my home."
Clos St Louis is a small, family estate in Fixin in northern Burgundy. It is run by Philippe Bernard and his wife Martine.
The point here is that there is nothing sophisticated, arranged or complex going on here. When you come to Clos Saint Louis Bernard and Martine simply open the doors to their winery and what happens then depends on what season it is. If it is winter he might take you out into the vineyard and show you how he does the pruning. If it is harvest time it can be to look at the grapes. A bad year maybe he will show you how it looks when the grapes are rotten on the vine. In spring he might show you how to plant young vines.
He just shows you what is going on, what he's doing. Simple and straight forward, and above all, honest and passionate.
Château Bernateau
"Here's what we do."
Ch Bernateau is a family chateau in Saint Emilion in Bordeaux. Some wineries are reluctant to receive visitors during harvest. Here it is the opposite way around. They are particularly keen on having you visit at that time of the year since there are so many things going on, so many things to show. And also it gives them an opportunity to explain some of their experiments – like red wine fermentation in barrel – and quality improvement projects.
The point here is that they show exactly what they do and show you all the details, while explaining the why:s and the what:s. They have also recently started with a new idea: giving the visitors a blind tasting of different vintages. (Or it could perhaps be samples of different grape varieties.) Very simple to do but great fun for a visitor.
Here are a few links to videos showing some scenes from visits at Bernateau:
Glenwood Vineyards
"Winemaking is simple. I pick healthy grapes and ferment them."
Glenwood Vineyards is a small to medium size winery in a stunningly beautiful valley in Franschhoek in South Africa. The winemaker who receives you has a very "simple" story. He picks healthy grapes and then lets the grapes do what they do in the cellar. (With a little help.) If it is that time of the year he is happy to let you do some of the punch-down in his open top fermenters (since it is hard work he's glad for some help…), or just taste the must. Plunge your hands down and fill up your glass.
The point here is that, again, this is very simple, but it is the winemaker himself that talks with passion and brings winemaking down to earth for the visitor, instead of making people believe it is something magical.
Edutainement
Edutainment, education combined with entertainment, is one step up in complexity. It requires a little bit more planning and effort. But how much is totally up to each winery. It can be simple and straight-forwards or it can be more complex. Let's look at some examples.
Here's a list of a few and I will talk about some of them in more detail.
Alpamanta (Argentina)
Avondale (South Africa)
Montgras (Chile)

blending, grape variety garden

Château Lestrille (Bordeaux)

blending, gourmet and gift shop, do the harvest

Spice Route (South Africa)

wine & food / wine & chocolate pairing workshop

Domaine Mourgues du Gres (Rhône Valley)

Vineyard walk with wild plants and spices and soil types

And many more…
Alpamanta
"Learn all about how a biodynamic vineyard works."
Alpamanta is an organic vineyard at the foot of the Andes in Mendoza in Argentina. It is also biodynamic, a cultural method to which it is much attached. Biodynamics is a very misunderstood method. It is often confused with organic, and with "natural" wines. Many consumers don't know the difference and even many professionals.
Many wineries choose not to talk about this subject since it is so much misunderstood, not to say contentious. Alpamanta has instead planned a whole itinerary around biodynamics to explain what it is and how it is done. It starts in the herbal garden where they grow plants and where they also have the pits where they bury the cow horns. They show the dynamisation, all the herbs and other preparations that are used and gives the visitor every chance to ask questions and understand how they work. Finishing of course with a biodynamic wine tasting.
Avondale
"See how we preserve the South African nature and reflect it in the wine"
Avondale is in Franschhoek in South Africa. They are very focussed on the preservation of nature and natural resources. They have a petit train, trenino turistico, a small tourist train built from pallet boxes drawn by a tractor that takes you out into the vineyard and the surrounding nature. The tour includes a visit to their water reservoir (water is a scarce resource), a closer look at the unique fauna in the region and a meeting with the pest hunting troop, a flock of geese that roam the vineyard munching on unwanted pests. If you want you even get the chance to cuddle up with the birds.
Montgras
"Learn to identify our collection of 25 vine varieties and then be winemaker for a day."
Montgras is a relatively big winery in the Colchagua region in Chile. As is often the case in Chile, the winery offers many different tourist attractions, like a gift and wine shop, tasting bar, and also the possibility to enjoy meals here. I will mention two of the things that they organise:
They have established a grape variety collection of some 30 different varieties. The visitor is taken around this collection and are shown how you can identify each grape variety by looking at the leaves, the grape bunches etc. For many visitors this is a revelation, that different varieties actually look very, very different. And also taste very different on the vine.
They also offer a blending workshop, "be a winemaker for a day", where you can create your own favourite blend by mixing in different proportions three different "base wines". As extra spice there can be a competition between the guests for the "best" blend. At the end you get to fill up your own bottle, put the cork in and dress it up with capsule and label. And then take the bottle with you home of course!
This is a rather big winery so they have employed guides who manage the tours. This can sometimes take away the charm and the authenticity of winery visits. It is more engaging to listen to the winemaker than to a guide who sounds as if they are reading from a script and who is not capable of answering off-topic questions. But at Montgras they have very competent guides that are full of enthusiasm and very knowledgeable so it works well.
Château Lestrille
"Harvest our grapes, blend your own wine, visit our gift and gourmet shop."
Ch Lestrille is a medium-size family winery in the Entre-deux-Mers region in Bordeaux (small in New World terms). It is run by Estelle Roumage, whose family owns the vineyard, and her husband Martin. Just like Montgras they offer wine blending sessions, in season you can participate in the harvest, they can arrange lunch at the winery for you, they have plans for a wine bar and they have opened a wine, gourmet and gift shop.
The main point here is that it is a young couple with just very few employees working at the winery (and Estelle's helpful father) but they manage to do all these things anyway. They try one thing at the time, small (relatively) investments but a lot of personal enthusiasm.
You do not necessarily need big budgets to achieve things, just ideas and energy.
"Disneyland" wine tourism
There are many big budget wine tourism projects around. It tends to be those that get the most attention. But they are not always the most interesting projects…
Again, I want to stress that I do not use "Disneyland" in a negative sense but simply to signify big budgets and projects that often involve several different elements and are also often in the area of hospitality.
Here are some examples:
Sancerre Wine Museum (Loire)

Tractor simulator, interactivity…

Solms Delta (South Africa)

Heritage museum, historic restaurant

Loisium-Weinerlebnitswelt (Austria)

Immersive "wine experience"

Chateau Lynch Bages & Village de Bages (Bordeaux)

Luxury hotel-restaurant, restored vineyard village

Hameau du Vin (Burgundy)

Wine museum, children's activites…

Torres (Catalonia)

Aroma tunnel, wine museum, cinema…

Dinastia Vivanco (Rioja)

Wine & art museum, show-winery, botanical exhibition

Maison Ackerman (Loire Valley)

Stone quarry converted to wine and art experience

And many more…
Let's take a closer look at just two of these projects.
The Sancerre Wine Museum
Interactivity for big and small, including tractor simulator.
Sometimes wine museums can be rather boring places that are nothing more than a collection of old winery tools. The Sancerre Wine Museum in the upper Loire Valley has done some unusual and entertaining things. First, the actual exhibition has some very interactive and exciting visual displays and also things that can be entertaining for children.
But the most interesting thing, in my opinion, is their tractor simulator. Perhaps you are familiar with a flight simulator? This is the same thing only for a vineyard tractor. It is a real tractor cockpit mounted on hydraulics. The task you get is to do leaf trimming with the tractor. The "driver" in the simulator is looking at screen that shows a virtual vineyard and must try and control the tractor and do the mechanised "canopy management". Not easy! An unusual but very clever and entertaining idea.
Here is how it looks from the driver's seat:
And here you can see more videos and explanations of the Sancerre wine museum tractor simulator.
Solms Delta
Vineyard workers heritage museum & historic restaurant.
Solms Delta is a medium sized winery in the Franschhoek Valley in South Africa. As many wineries in South Africa they have a restaurant and some other visitor's activities. The particularly interesting thing to mention is their museum. It is not a wine museum but a "heritage" museum. It tells the story about the people who have worked on this farm over the centuries. It builds something very positive on a tormented and difficult past – this being South Africa with all the challenges and conflicts that this country has been through. By talking about the life of the workers at the winery over the years it gives the visitor a very concrete insight into the history of the country, linked to the winery. It is also something that seems to mean a lot to the people working on the farm today so making it a positive experience both for visitors and employees.
This is combined with the possibility to have a "heritage menu" at the restaurant, with very traditional food (instead of the more common international cuisine).
Eventification
There are many wine regions that today organise different kinds of events and since this is something that is very well known, I assume, to everyone at Città del Vino, not least through the Calici di Stelle events I won't go into this much.
There are many examples from wine regions all over the world. Here are a few:
Balade Gourmand (Aprémont-Savoie)
Pic St Loup and many more similar
Haro Wine Festival (Rioja)
Fête du Vin à Bordeaux
Calici di Stelle (Italy)
…
I will just mention one of these.
But one example:
Balade Gourmand d'Aprémont
A day with a gastronomic wine and food walk in the vineyards.
Early every summer this remote region in the French mountain region Savoie arranges this balade gourmand, gourmet walk in the vineyards. You buy a ticket to participate and then you can spend a few hours walking from station to station. At each of the numerous stations you get to sample some wines and taste some small and delicious dish so at the end of the walk you have had a great lunch and a long walk. The 2000 (!) tickets available sell out very fast. It is of course just a one-day event so might not bring a lot of visitors from far away but for everyone who participates it is a fantastic experience.
The 3 different kinds of wine tourist
And finally a few short words about the demand side of wine tourism, the wine tourists themselves. This is not the subject of this presentation but I wanted to stress that just as there are different kinds of wine tourism there are different kinds of wine tourist. Here's how you can segment the types of wine tourists:
The Wine Geeks

Want to know everything. Wine is the sole purpose.

The Gastro-Tourist

Food and wine is an important element.

The Passing-By Casual (Wine) Tourist

"We're in a wine region so let's visit a winery."
This is something that is sometimes forgotten. Not every wine tourist is the same! Not every wine tourist wants the same kind of experiences.
Conclusions
I will not attempt to give you a recipe of all you need to do to make wine tourism successful. There is no secret key. But here are a few "contributing factors" to a successful wine tourism project. Some you cannot do anything about, but others you can.
Maybe the most important one is collaboration, collaboration, collaboration. Wine tourism is a bit like social media. If you are all alone on Facebook it is of no interest. But if you are many, things start to happen. Similarly, the more wineries, restaurants, museums, hotels, tourist offices, wine shops and other shops etc etc that are involved and that cooperate the better it will work. More visitors will come if everyone helps promoting everyone else. That is not an easy thing to do perhaps if your mind-set is focussed on competing rather than collaborating.
There are also a few other keywords: sharing with the visitor, enthusiasm, authenticity.
And finally: Don't be afraid of not having a "beautiful" cellar or a perfectly organised tasting room. As long as you are prepared to share your life story with the visitors it will work even in the simplest cellar.
A few words of warning
To be successful in wine tourism it is not enough to throw money at a project (or be good at soliciting government or EU funding). You have to want to receive visitors; you have to make them feel welcome.
It is also, I believe, vitally important who is driving the project(s). The wineries must be the driving force behind the wine tourism project(s). You cannot "from above" impose wine tourism projects. Organisations, and local-regional-national governments or bodies can be facilitators but should perhaps not be the strategic decision makers. Public bodies ("government") can however do a lot of very useful and important things, for example:
Generic promotions (people want to go to wine regions that they are familiar with)
Removing regulatory hurdles and unnecessary restrictions
Facilitate collaboration
And much more.
Also a word of warning about making wine tourism a stand-alone financial profit centre activity. That is not necessarily bad, but if you do it then it will have major implications for the kind of wine tourism that you will attract and for how you need to organise it. In most cases it is probably better not to make wine tourism a profit centre.
Finally: The Welcome is more important than the Product:
It can be more important HOW you receive visitors ("the welcome") than if your tasting room is elegant, or even more important than the quality of your wine ("the product").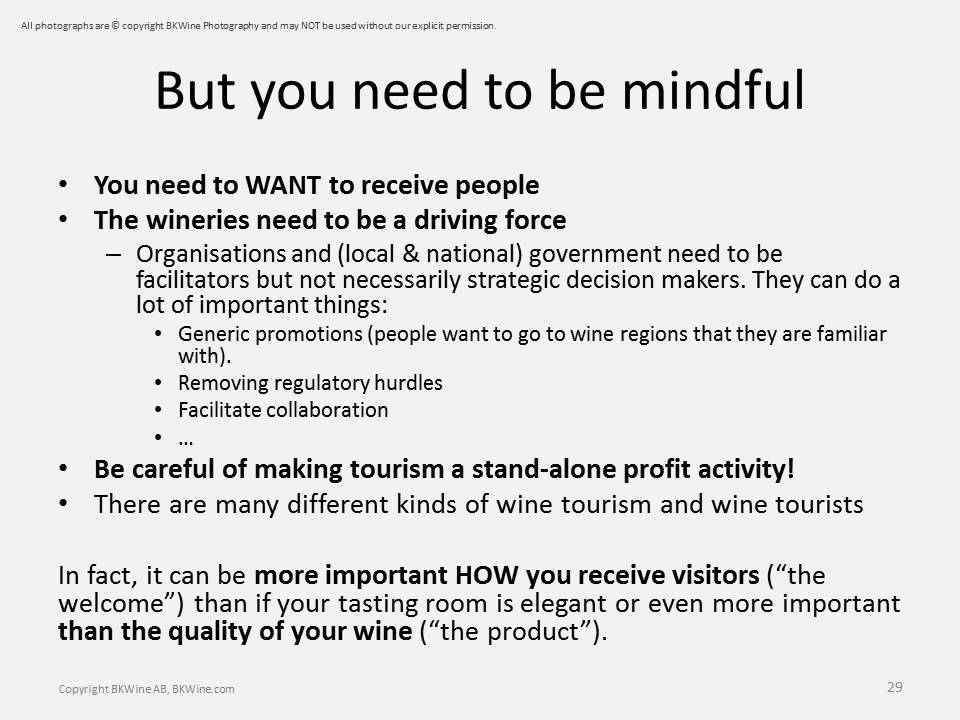 Basically, it is easy
Wine tourism is all about giving people a memorable experience. And a personal experience. Something to remember. Something to bring home (physically perhaps, but more importantly in the head). Something that will make them remember your winery and that will make them talk about it.
You really just need three things to start:
You need to want to receive visitors
Good tasting glasses, and you need
Clean WCs
This is after all what really counts:
Happy people with wine in their glasses!
Thank you!