The Huffington Post is not only a news site. It also has a lot of interesting contents on travel, wine and food. When a while back it did an article on how to visit vineyards and how to travel in wine regions they contacted BKWine for some expert advice.
Here are some excerpts from the article, How to Visit Vineyards, and from the interview that Anneli Rufus did with BKWine's Per Karlsson.
Visiting vineyards, wineries and tasting rooms in person presents many amazing opportunities — to learn, but also to commit horrible blunders that might make you curl up into a ball and cry at the mere sight of a cork for the rest of your life.

To save us all from that fate, I asked three experts for their insights on enological etiquette. Ponder these tips before venturing vineyardward.

"Follow the lead of the winemaker or whoever receives you. Most of the things they do, they do with a purpose. For example, if they have you taste reds before whites, don't say, 'That's not the way to taste wine.' Instead, ask, 'Why do you prefer to taste reds before whites?' Or if you think the red is served too cold, don't complain. Instead, ask what they think is the ideal serving temperature," suggests Per Karlsson, who visits hundreds of wineries around the world every year as a guide for BKWine Tours, which he co-owns with his wife Britt.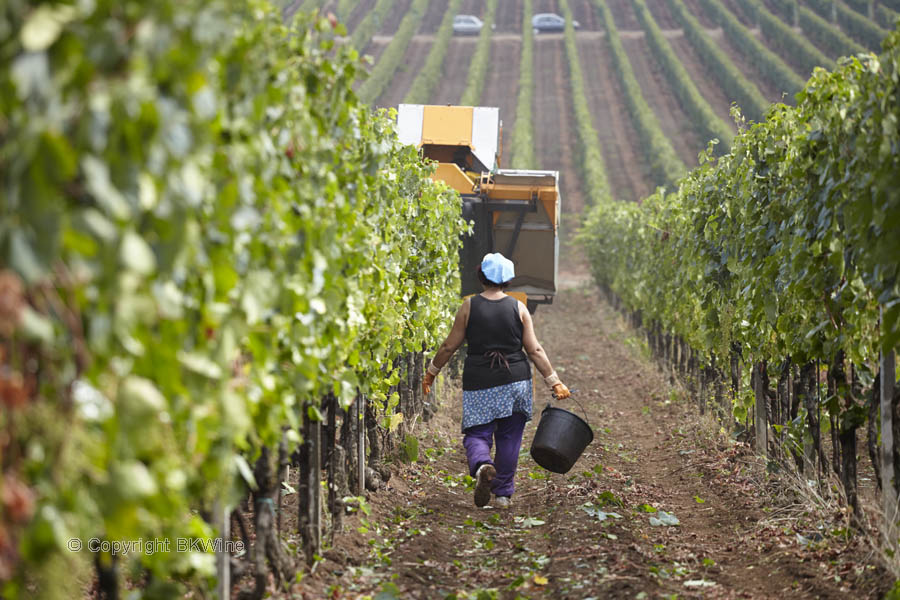 Although certain customs vary from country to country, "in most cases you should not grab the bottle and serve yourself wine," Karlsson says. "If you want to taste some more of [anything], ask for it. They will be glad to serve you."

"Do not hesitate to spit the wine. If there is no spittoon, ask for one. It is not rude to spit. It is more of a sign that you take tasting wines seriously," explains Karlsson, who has also coauthored several books on wine and publishes BKWine Magazine.

"If you visit a winery with a group, try and listen to what the winemaker says and don't stand in a corner chatting with your friends. He's talking to you, you know," Karlsson adds. "The single most important thing to do in order to get the most out of your visit is: Be curious; ask questions. Give feedback to the winemaker about his wines. I can promise you that he is curious to know what you think."
"Look at the vines, the grapes, the soil. Ask why they do it the way they do it," Karlsson suggests. "For example, ask: 'Why do you have such dense plantation? Why do you trellis so low? What type of soil do you have?'"

Inside the winery itself, keep looking:

"No, it is not true that one stainless steel tank is just like any other. How the inside of a winery looks can tell you a lot about the philosophy of the winery and the winemaker and about the style of the wines that they make. Plus you may even get the chance to taste some fermenting grape juice if you are lucky," Karlsson adds.
Karlsson [continues]: "You should not feel obliged to buy. Most wineries understand that you come from far away and cannot carry home a lot of bottles. However, [the typical winery] will be more than happy to sell you some bottles — with the exception of some Bordeaux chateaux who don't sell anything at all."

He also strongly recommends contacting wineries before you plan to visit (*), "especially in Europe. In New World countries, wineries are often equipped with tasting rooms and shops and perhaps even restaurants with staff that can handle drop-in visits. That is often not the case in Europe, where wineries are smaller and less oriented towards tourism."
"Do a little homework," Karlsson urges. "Know a little bit in advance about the wines and the region. For example, if you visit Chablis in northern Burgundy, you don't want to ask, 'Do you ever use Chardonnay for your whites?' — because 100 percent of Chablis is white and 100 percent is from Chardonnay," Karlsson points out.

"And — but surely I don't need to say this — don't drink too much."
You can read the full article here: How to Visit Vineyards.
I would not quite agree with the very beginning of the article though, that visiting vineyard presents opportunities to make a real fool of oneself. That is never the case. Don't worry too much about any "do:s and don't:s". There is really no right and wrong way to travel in wine country as long as you enjoy yourself!
(*) I would of course also say that the very best way to visit vineyards is to go there on a wine tour organised by an expert wine tour operator. On an organised wine tour, with the right kind of travel organiser, you can experience things that you will never have the opportunity to experience if you travel on your own; tank and barrel tastings, special blends or older vintages, blending workshops, lunches with the winemakers etc.
In fact, if you travel on your own, it is often unlikely that you will meet the winemaker at all and instead meet the shop or marketing assistant. On BKWine's tours, who the person is that receives us is one of the most important aspects. Usually it is the winemaker or the owner. As on the picture above and the short video below where we are ending a winery visit with a lunch at the 15th Tenuta di Squarano castle together with the Marchesi Fumanelli himself at the head of the table.
There is plenty more information in the article; tips and tricks and advice on how to make the most of a vineyard and winery visit. Annelie Rufus also talked to Laura Ellwanger, press relations managers at Donnafugata on Sicily and Suzanne Phifer Pavitt of Phifer Pavitt Wines.
Many thanks to Anneli Rufus for taking an interest in what we do, and how we do it. She is a travel, food and wine journalist and author of Unworthy, Party of One, and Stuck and other books. You can find more about her on her site Anneli Rufus and on twitter as @LifeWithAnneli.
Read more press and media mentions on BKWine wine tours here.