Our new wine tour to Valpolicella, Soave and Bardolino in Veneto gives you a close-up study of Amarone, plus a lot of excellent Italian food and beautiful scenery.
Sitting on the café patio at dusk with a glass of cool soave enjoying the last rays of sun is not bad. Not at all. Quite pleasant actually. Especially when one considers the chilly autumn weather back home. When it is getting cold and dark at home, it is still summer weather here in the Veneto region, the northern Italian region where one can find many famous wines.
Close to Lake Garda in the west we have Bardolino, with its elegant and delicate red wines. Then comes Valpolicella which makes both characterful "regular" wines, called simply "Valpolicella", and that is also home to the highly acclaimed amarone wines. We continue east towards Venice and we arrive in Soave and the lesser known Gambellara district. In both these wine regions they have today exciting white wines that can range from light and elegant aperitif wines to powerful, complex food wines.
In the middle of all this is Verona. Verona is best known for its arena. Aida. Carmen. The Masked Ball. And so on. Or perhaps the town is even more famous for Romeo and Juliet. The balcony where Juliet stood and pined exist in reality and you can sneak in on the courtyard to watch it. (But I can guarantee that you will not be alone there!) Verona is also one of Italy's most elegant and thriving cities. There are fashion stores left right and centre. Restaurants. Cafés. Ice cream shops. Once notices that this is in the thriving Northern Italy.
In Verona there are also the two famous squares Piazza Bra and Piazza delle Erbe which act as two opposite poles in the city centre. In the evening the whole town seems to circulate between the two piazzas. And I do not think any other square has so much outside café seating as these two have.
Verona is of course the obvious base for exploring the wines of Veneto and the northern Italian food. It is in Verona we stay on the wine tour and food tour to Veneto that gives you much of the best of Valpolicella, of Amarone, and of its gastronomy.
On this trip we take you to some of the best producers of amarone and the sometimes more quaffable "regular" Valpolicella wines. We also take you to some unforgettable meals that we enjoy at home (literally) at some of the wineries that we visit. With extensive tastings of the wines too of course.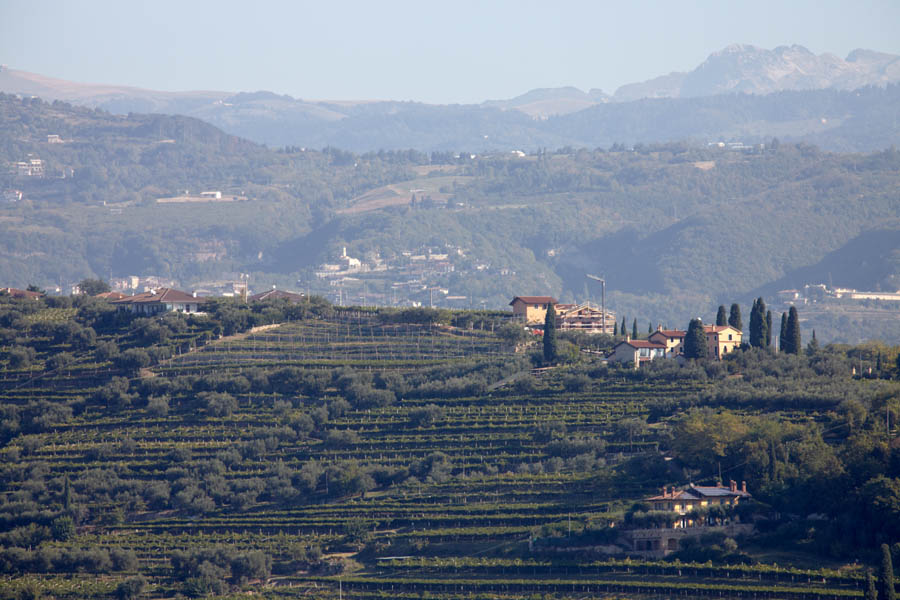 The vineyards are many here in Valpolicella, Soave and Bardolino. One should not be misled into believing that the only producers who count (and who are worth a visit) are the "big and famous" who sell a lot on the international market. Well, they do make very good wines, but there are also many, many smaller producers, family vineyards, which are not so well known abroad, but make fantastic wines. And often at more affordable prices. We take you along to them too.
So if you are interested in exploring Veneto with all its good food and superb wines, amarone, Valpolicella, Soave and more, take a look at our program for the wine tour and food tour to the Veneto region of northern Italy.
(A wine tour to Veneto is on our Scandinavian scheduled program and currently offered as a custom wine and food tour in English.)